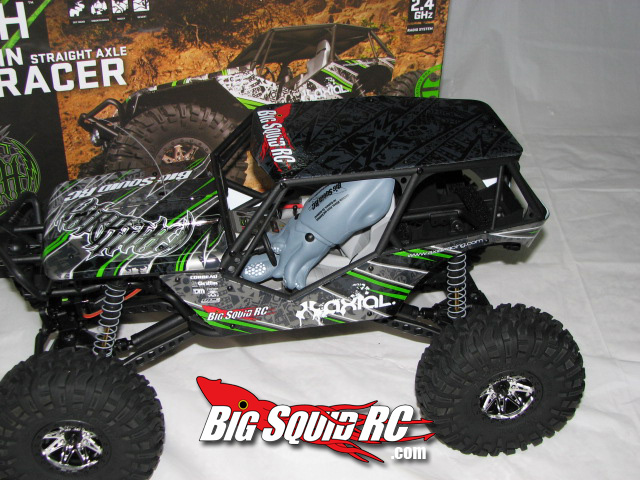 The folks over at Axial did a great job of teasing the Wraith to the world. It started off as some silhouette shots, then we got bits and pieces of news leaked out. Nobody was 100% sure of what the truck was, or what it was meant to be, but the hype was building. When Axial finally made the 'official' announcement, I think both Evan and Jeff were racing to see who could pre-order the truck first, even before posted we posted the press release. After several weeks of beatings what are our thoughts? Keep reading to find out..
From: Axial Racing
Product Page: Axial Wraith
Purchase At: Tower Hobbies – Axial Wraith or your local hobby shop.
What's in the box:
The Wraith comes completely built and ready to run right out of the box. You'll need batteries for the truck and for the transmitter, but other than that, you are good to go. While most rock crawler guys would prefer to build their truck, the Wraith is really aimed at more of a general audience. More about that later. The Wraith comes with a Castle Creations ESC so you can fine tune everything you need to with the use of a Castle Link (not included) and this powers a decent 20T brushed motor.
Test Drivers: Brian, Wrench, Adam the Intern
Test Locations: Anywhere we could find some rocks, dirt, trails, grass, skate park, and a couple of crawling courses.
Who is it meant for: The Wraith is sort of a 'catch all' truck. It's meat for people who want to do a little bit of everything. We found the best spots were the random trail locations. Forest preserve paths, construction sites, anywhere there is a big variety of terrain. The truck is quick enough to get you moving down the path, but not too fast. It can do some crawling when needed, but it's not going to compare to a true dedicated crawler either. Axial says it's an All Terrain vehicle but refer to it as a 'Rock Racer' and I think that's a pretty good description. It does have a waterproof receiver box, but the motor/esc do not claim to be waterproof. So if you are really looking to go ALL TERRAIN we suggest you take a make a few waterproofing steps.
First Impressions: Out of the box this truck has a serious wow factor! The detail, the scale look, the lights all really tie the truck together for a really polished look. If you are looking for an attention getter, this is it!
Driving: Out of the box the Wraith felt a little awkward. We have never really driven anything quite like it. On flat ground it would roll easily because it's sort of top heavy with the battery placement and the stiff shocks bounced it around a lot more then I imagined it should of. It was one of those moments where everyone in the office loved the look, but thought it would drive differently. It wasn't necessarily a bad thing, but it was as if it was unexpected. I think this is probably something that happened from the marketing hype. Nobody really knew what the truck was going to be like, so everyone had their own idea in the head, and it just didn't match any of our ideas. The truck was really technical to drive which can be a blast if you have that mindset going in. Our basher minds were looking for something more simple. Thinking hurts! Luckily it didn't take much to make our truck more suitable for our basher brains.
Best Mods: Because the truck didn't really drive like we wanted it to out of the box, it was time to come up with some really simple mods that would make it feel more like our ideal rock racer. The biggest change was the battery placement. Having a full size 2S lipo pack sit up so high and in the rear of the truck had us rolling left and right every time we turned a corner, and a steep incline would put us right on our lid. So what we did was pick up the MaxAmps 5200 2-cell Saddle Pack. (Direct Link) We mounted them in the front of the truck, under the dash board on both sides of the center console where a drivers feet would normally be. This change alone made a HUGE difference in the way the truck handled. Instead of rolling over on the turns, the weight from the batteries would push down a little more on the front wheels and really dig in. The next two changes are a little cheaper but also very effective. We used softer springs and heavier shock oil all around. We upped the shock oil to 50wt, and the softer black springs from Axial (AX30223) really help make the truck less bouncy and more forgiving on jumps and higher speeds.
After the mods are in place you are really ready to take on anything! The huge gravel hills, the jagged rocks, the dirt ruts and the tree avoiding. We were also more in the mindset of a trail rider or all terrain racer. We weren't trying to crawl up stuff that would make our XR10 break a sweat, and we we not trying to attack stuff like a monster truck. We had found that sort of 'zen' where you just want to navigate some tuff terrain. Where a group of you and your buds could go from point A to point B but with enough speed to make it a race while getting there, and seeing who you could out navigate on the way.
Overall: This truck isn't for everyone. It's a bit of a nitch for a group of people that want a little more challenge in their RC life. Everyone who messed with it here had huge ideas for the truck. So if you are one of those guys who likes to mod the heck out off something, this is the truck for you. It's an awesome base to get started with. The looks are incredible, and the overall design is really cool. Right out of the box it needed a little help to get it where we wanted it to be, but the mods were quick and easy to make this happen. We would have liked to see beadlock rims to make it easier to experiment with tires and weights for the terrain we were tackling. The stock 2.4ghz radio works well enough, and the durability of the truck has been great. The Wraith took a good beating from all the jumps and crazy paths we had it on, and it help up very well. The tube chassis frame looks awesome, and protects the truck, but does make it a little more difficult to get to things when you have so many screws holding together. The adjustable Castle Creations ESC is a nice feature and the truck has plenty of power for fun off the beating path. (literally)
Like with all of our stuff, if you see us at a bash, or out at the track, stop by and check out what we brought with! Don't forget to get some stickers from us!
Summary

| | |
| --- | --- |
| Time to Bash | 8/10 For running stock out of the box, just add some batteries and go. For us to make it our ideal rock racer, took a little time. |
| Workability | 7/10 The tube chassis can make things a little challenging to get to. Some quick and simple mods can make a huge difference in the feel of the truck |
| Car Show Rating | 10/10 This truck is a beauty! The scale look and details are awesome. The lights are a welcome addition, and everyone stops and looks when you drive by. |
| Bash-A-Bility | 9/10If you are using the truck for what it's meant for, you probably won't break anything. If you start launching it off roofs, you may be in for some damage. |
| Big Squid Rating | 8/10 Tentacles… It looks awesome. It's more technical than we expected so it is a bit of a nitch vehicle. Everyone around the office kept saying it was a great 'base' truck to make their own ideal rock racer. It's not for everyone, but the intended audience should be happy. |
Don't forget to check out the Wraith Unboxing Photos!