Axial Wraith Spawn – Let the upgrades begin!
Hey Squidders, sorry I have been MIA for a couple of weeks, had some family issues that needed attending to. I'm back with some updates on the Wraith Spawn build thats been on my bench for a bit. When we left off I was getting ready to take it for it's first spin and see how things play out. Which reminds me if you have not read the first volume of this build you can check it out here!
So to give the Spawn a good shake down I took it one of my favorite spots in Kansas City, Watts Mill Park. I'm happy to report that the Wraith is now, just like it was back then, still a blast to drive. The 13.5 power plant was plenty of zoot to get some good hopping and jumping action on the rocks. I got enough wheel time to take some mental notes on some handling problems I want to address. The suspension feels way too stiff and the ride height needs to be lower to address some tipping issues. Even with some suspension woes I still got to have some fun splashing in some shallow water and climbing some rock formations. I am unhappy to report however that my fun was cut short. A bad landing on a rather large jump snapped the stock C-hub and twisted the universal shaft off. Bummer!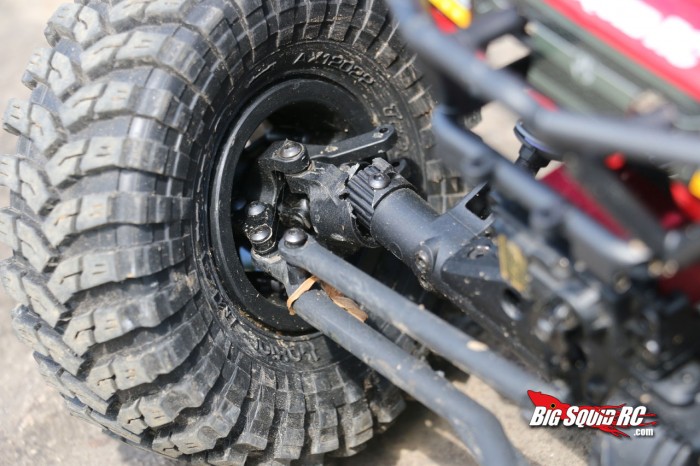 I reached out to Vanquish Products who are well known for their Axial upgrades and ordered some bling to up the toughness factor of this super fun chassis. I picked up the Wraith Stage 1 upgrade kit which includes aluminum knuckles, C-hubs and rear lockouts. This will be a major durability upgrade on all four corners of the truck. This kit conveniently comes in red to go along with my color scheme I have going for the Spawn too, BONUS!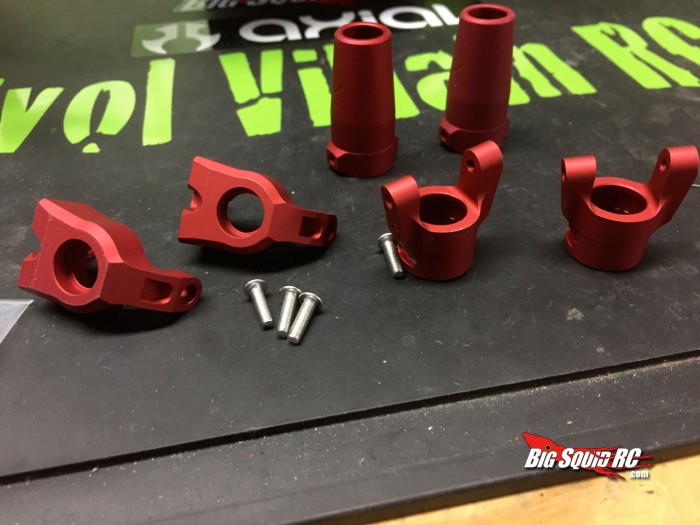 The more I began to think about it the more I started to draw some parallels between my damaged Spawn and the comic book anti-hero who is its namesake. The comic book hero narrative often has the protagonist getting his butt kicked before coming back stronger and in some fancy costume. Why not the same type of thing for my Wraith? Gears turning in my head for how cool this thing could look I reached out to Neal from Freqeskinz and threw my idea at him. He responded about an hour later with the words "it will never work" with this picture attached. My jaw was one the floor. This was exactly the look I was going for. Thank you Freqeskinz!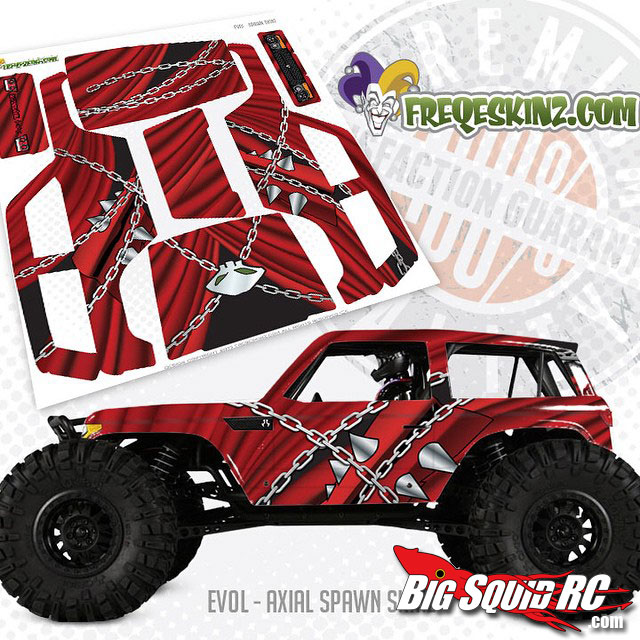 Installing the skin was pretty easy even for a novice like myself. The vinyl is forgiving to being re-applied and with the help of the heat gun it lays down quite nicely.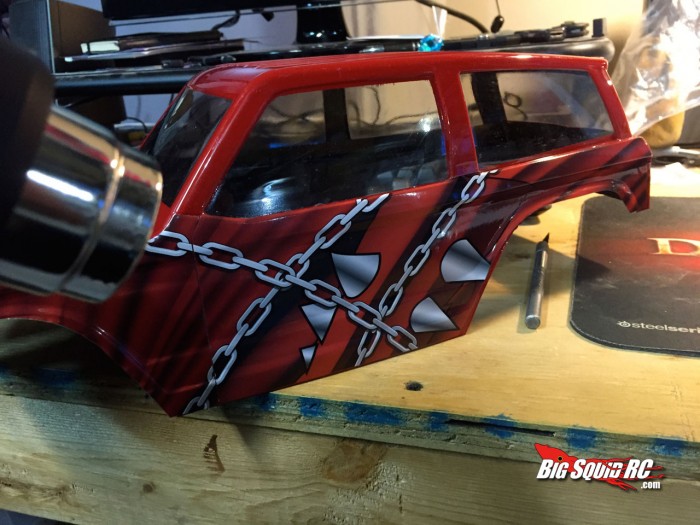 The the new Spawn wrap installed I could not just put it back together with the same old shoes. No way! Again I tapped Vanquish for some of their Awesome OMF Type R 2.2 bead-lock wheels paired with some 225 SLW hubs to give a near stock track width. I think the red and silver OMFs should compliment nicely! To go along with the new wheels I hit Eddie up from Crawler Innovations for some closed cell Deuce's Wild foams to improve the performance of this trail/bash machine. The closed cell foams for those who don't know will shed water instead of abosorbing it and becoming giant water balloons on the end of your axles. These foams are also a lot more firm so they will have improved performance when side hilling or going fast aroud corners because the tire will not roll under as easily. Win win! I'm staying with the Trepador right now because I think its a great tire.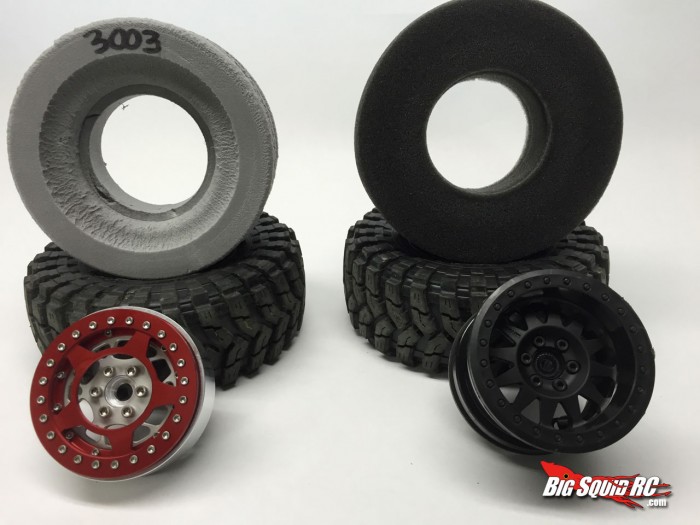 To replace the broken universal I had to go back with stock because VP was out of their awesome VVD/CVD axles. But with the added rigidity of the stage 1 kit I highly doubt I will have anymore issues with the universals. The stock units are pretty rugged when paired with a good set of knuckles and chubs.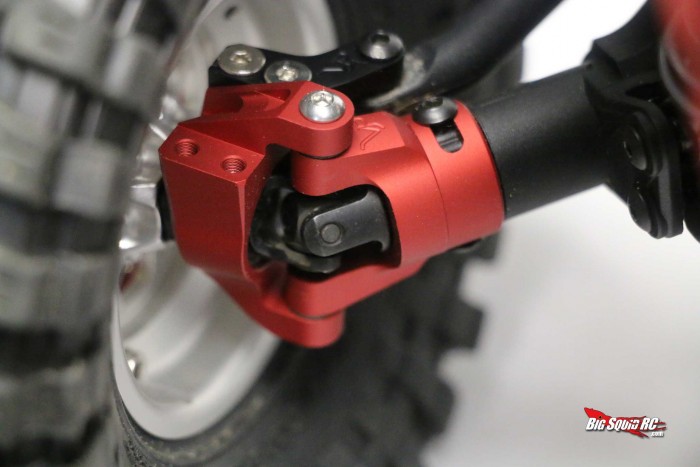 So that is all I have planned for this volume of Pimp Spawns ride. Al approves of his newly upgraded ride and I'm pretty pleased with it as well. I've got lots more goodies lined up to go into this build so be sure to check back regularly for updates. Thanks for sticking with me guys and I'll catch ya on the next one!
-Evol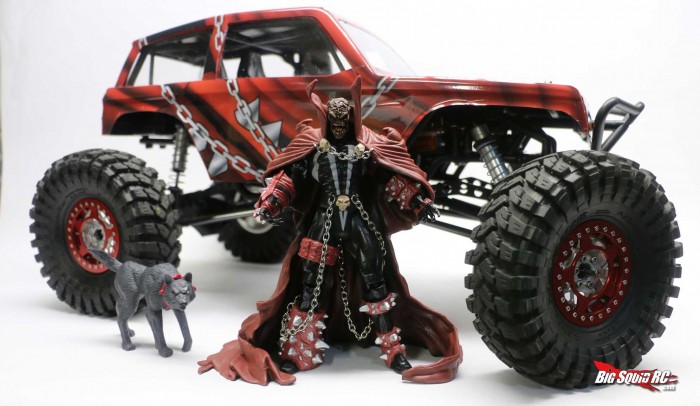 To check out some of the performance goodies available from Crawler Innovations for your Wraith click here.
To see some Vanquish Products upgrades for your Axial rig click here.
To see some more of Freqeskinz vinyl wraps click here.
Want to find out more about the Axial Wraith Spawn? Click here!
Or
For more Axial news on BigSquid click here.