Axial XR10 Heavy Duty Gear Plate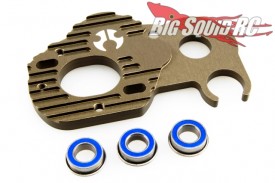 Looking to add some strength, bling, and better heat transfer to your XR10 Crawler? Axial Racing's new heavy duty gear plate has your covered. Precision machined from billet aluminum, the plate is 4mm thick at the motor mount, and designed to dissipate heat quickly and efficiently for better perfomance and all-day crawling. It even comes with three 5x9x3 flanged rubber sealed bearings for increased strength and durability.
Head on over to Axial to pick one of these up for your bad rad crawler!