Axial Yeti XL Review
Axial Yeti XL Review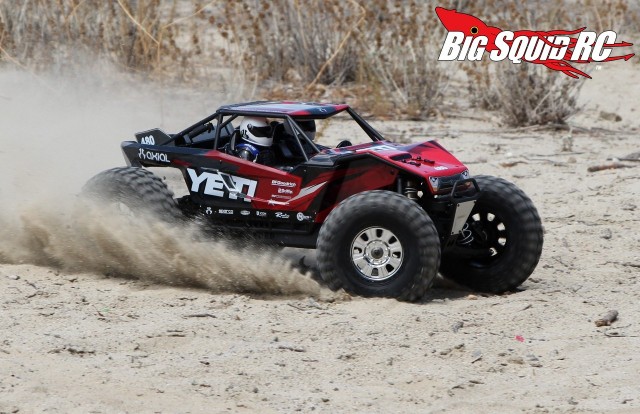 How do you follow up one of the most hyped and anticipated rc vehicles of recent years? You go BIG! The Axial Yeti XL has a heck of a challenge ahead for it to not get lost in all the original Yeti news. Pure size alone may not be enough. Axial hasn't really dabbled in such a large scale before. Can they pull it off? Will the Yeti XL be everything fans want and more? Keep reading to find out..
From: Axial
Direct Link: Axial Yeti XL (Web page coming soon!)
Pre-Order: Click Here to get one of the first!
Review By: Brian and Tim
Pics By: Tim Mohr
Video By: Brian (Coming soon!)
Specs:
RTR or Kit: RTR
Age: 14+
2wd or 4wd: 4wd
Shaft or Belt: Shafts
Electric or Gas: Electric
Scale: 1/8
Length: 25.75in (654mm)
Width: 16.3in (414mm)
Wheelbase: 18.5in (470mm)
Height: 11.10in (282mm)
Ground clearance: 2.48in (63mm)
Weight: 12.75lbs (5.78kg)
Slipper Clutch: Dual Slipper Clutch
Shocks: Oil Filled, Aluminum Threaded bodies, single rate springs
Screws: Hex
Tires: BFGoodrich Krawler
Motor: Castle Creations 2200KV 4-Pole Vanguard XL Brushless Motor
Speed Controller: VANGUARD AE-4 XL ESC, 6S / 4S LIPO, WATERPROOF (By Castle Creations)
Water resistant: Yep, it can get wet!
Part Number: #AX90032
Warranty: "…free from defects in material and workmanship when new in the factory sealed box."
Street Price: $699.99
Top Speed: 50+
If you aren't sure if your LiPos will fit, this should help.
Battery tray dimensions:
Length: 6.89in (175mm)
Height: 1.3in (33mm)
Width: 1.7in (43mm)
Primary Competition: There are not a lot of 1/8 scale rock racers out there, and there really isn't a vehicle with the same scale looks as the Yeti XL. The biggest competition is probably the original Yeti, and people will have a tough choice to make.
What's Needed To Complete: The Yeti comes RTR, but you will need to provide 2 2S or 2 3S Lipos to go for the full power experience.
Test Drivers: Tim 'I can drive anything and make it look easy' Mohr, Brian 'Editor in Chief'
Test Venues: Secret Test Location in Southern California. HUGE jumps, soft and hard dirt, sand, and rock, grass, pavement, streets, parking lots, and just about any other surface we could find.
Set-up Notes: All the vehicles we ran were completely stock till we started getting into the speed run testing. There we added on the sway bar to help keep some of the insane power under control. We ran mostly on 4S (2x2S lipos) that are easily accessible by flipping the body up and installing one on each side of the vehicle. Running on 6S proved quite the handful.
Turning: While the XL bites at turn in, its steering system seems to run out of steam by the apex, resulting in it going wide on corner exit. I don't know for sure if it was the servo, a weak servo saver, or both, but many times we had to hit reverse to get turned around in a reasonable radius. This is something you will find yourself looking to fix.
Jumping: It's a beast when jumping. Its large size and proper suspension set-up ignores big ruts on jump faces, while it's ample travel and big tires soak up skyscraper landings. Like the other trucks that are independent suspension in front and solid axle in rear, it does tend to jump nose down, however its big 8th scale power system and heavy tires make it easy to pull out of an endo. When jumping nose high a tap of the brakes quickly brings the nose down. Overall, easy to jump and digs mega-air. You can see from some of the photos that the Yeti XL isn't shy about going huge and we never really felt like we were out of control.
Bumps/Whoops: The XL might be the best non-5th scale we have driven through bumps. The suspension damping is well done out of the box and those huge tires ignore bumps that would wreak havoc on a smaller truck. We found that you could absolutely pin it through terrain that you know would have caused pretty much every other truck on the market to get severely out of shape.
On-Road: The big power made the XL a lot of fun on pavement. But… while its wide turning radius kept it from traction rolling, it made sharp corners difficult to navigate. On 6S power that solid rear axle had a tendency to get the vehicle bent out of shape causing the front right to lift off the ground pretty consistently.
Tires: They are molded out of a fairly soft compound, which gave them good grip on high bite surfaces, while their big realistic lugs gave lots of traction in loam. Overall, they worked great on a wide variety of surfaces and looked good doing so. The size of the tires, much like the truck, is something that has to been seen in person to get the full effect of their massiveness.
Grass: The XL pretty much ignored grass. The power, the big tires, and the ample ground clearance made the XL an animal in the grass. We were tearing up fields, and cruising at top speeds without any issue.
Power:Like most 8th scale systems, there was power galore. There was massive yank right off the bottom, with a punchy mid-range that lead up to a strong top-end. On 4S it has all the power you will need except for the most extreme of applications, on 6S it was pure insanity. If you are one of those people who always says 'Well I don't have enough 3S packs to go 6S' don't worry about it. You will have a blast on 2 2S packs!
Radio: The standard Hobbico radio is a solid unit with decent range and ergonomics.
Broken Parts: There really wasn't a lot of damage. We Don't remember exactly what parts, but then we were driving it like lunatics all the time. It did hold up better than I expected from something so big and heavy. Anything broken was easily replaced from a parts car. There was no major damage to the chassis, or shock towers, or anything like that.
Misc Notes:
The XL has awesome scale looks combined with over-the-top bashing size and power. On the shelf it looks awesome, at the local bash spot it can pretty much eat up and spit out anything else that shows up. Everyone on the Big Squid RC crew has been impressed with it. Bashing 4 of these huge beasts at a time is a total blast! It's almost hard to go back to driving anything smaller.
About trail driving, I mean it is an Axial. It is geared fairly tall for constant 5 mph use, however, every trail drive I've been on there was always a section that our little tenth scale vehicles simply could not get over. With its huge size, I think the XL opens up a whole lot of new terrain to the trail driving crowd. Imagine a whole line of these things going down the path!
Remember how every time you drove a Savage Flux or E-Revo on 6S and all it did was constantly wheelie? The Yeti XL is set-up to put all that power to the ground instead of instantly flipping you on your lid. This was a nice change of pace, not having to be constantly marshalled on 6S, and on top of that, it resulted in some pretty insane speeds while out doing general bashing.
We are big fans of the lift up cage, it makes it easy to get to everything on the chassis, nice touch.
There were scale details from bumper to bumper, once again, very impressive and nice job Axial.
Axial is setting a pretty high standard, if you are another manufacturer, you can't just put out some Joe Blow truck anymore, it has to perform and look authentic.
The XL is physically huge, nearly as big a HPI 5B, yet it retains its scale proportions.
Stock out of the box it comes single speed. (High Speed) You will be able to upgrade to a two speed transmission in the future.
Best Mod Over $5: Get the servo/servo saver situation figured out.
We will have to look around for some of the original prototype pictures we had from months and months ago during our first California trip. It was cool to see the Yeti XL in different stages of development.
---
Summary:
A = Outstanding/Best in Class, B = Above Average, C = Average, D = Below Average, F = Horrific
Time To Bash: B The Yeti XL is RTR, you just need to flip up the body and add two batteries to get out there and bash.
Workability: B Anything we broke or needed to adjust was quickly and easily accessible. Nothing was a hassle to work on.
Car Show Rating: A Just like its smaller brother, the Yeti XL is a scale looks dream! The licenses from front to rear cover every inch of this ride. If you want to turn heads at your next bash, this is the ride!
Bash-A-Bility: B Because of its size and mass, it's slightly easier to break something on the Yeti XL than on the smaller Yeti. That does not mean it's not a total beast. This thing can take a serious beating with HUGE air and insane driving. We didn't break anything major after countless hours of a relentless beat down.
Fun Factor: A At top speeds of 50+ mph, the Yeti XL can bring a smile to anyone's face. There was no place we couldn't take it. We attempted and succeeded to climb anything we wanted. There were cliff faces that we physically had problems climbing that the XL made without issue. There were a few times we got the truck up somewhere and thought, "Now how do we get up there?".
Handling: C While the Yeti XL lets you apply all the power you can throw at it off the line, it does get a little squirrely at top speeds. The larger turning radius made things a little frustrating when trying to keep it in tight. In the air it handled very well.
Value: B For a vehicle of this size with this amount of power behind it that can take the beating we gave it, yea it's a good price point.
Parts Availability: C It's going to be a while before you find Yeti XL parts on the pegs of your local hobby shop, but on-line they shouldn't be a problem.
BigSquid Rating: B It's huge, it's awesome, and a vehicle everyone should have in their stable. If you are on the fence about getting a 5th scale to bash with, you may want to wait till you see the Yeti XL in person. It will be cheaper, and just as fun! I know a few of the bash crew are saving their money so we can get a fleet of them!
Check out the video of the beast in action:
Coming Soon!