Axial's XR-10 MOA stats leaked?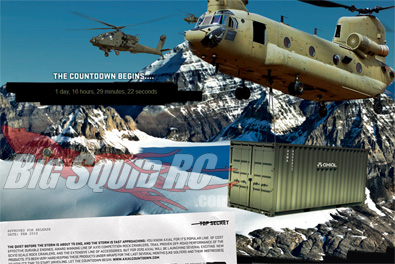 Axial has been teasing fans for a while now about a new vehicle arriving soon, many people think that's it's finally going to be the arrival of a Axial MOA (motor on axle) vehicle. Doing a little snooping we have found the following info. We don't know if this is for their new vehicle or not.. but they do look like something interesting. They plan to officially announce the vehicle May 10th. Guess we'll have to wait. But for now.. check out this info!
AX90017 Axial XR10 – 1/10th Scale Electric 4WD Rock Crawler Competition Kit
Complete "No-Compromise" competition ready kit
* All new front and rear specific nylon lightweight axles
* Low profile design for extra ground clearance
* Front steering axle with the ability to clock the motor up/down
* Rear axle is 16mm narrower to squeeze through the obstacles
* All new Behind the axle steering and oversized universals
* Enclosed steering slide with adjustable tie rods to adjust toe in/out
* 8* kingpin angle to increase steering response
* Double sheer knuckles with replaceable aluminum steering arm
* Adjustable C's with splined design to provide caster adjustment in 15* increments
* Oversized 12.5mm universals with 4mm and 2.5mm cross-pins
* 45* of steering out of the box
* 37.9:1 Gear ratio using the included 14T Pinion. Gear box allows for use of 12-19T Pinions for gear ratios of 44.2:1 through 27.9:1.
* With the use of dual motors you can easily adjust your front and rear gear ratios independently for fine tuning.
* Front and Rear compact and lightweight gearboxes keep the motor tucked in close and above axle centerline for extra clearance
* Aluminum chassis plates with tapered molded nylon skid plate
* Chassis provides multiple upper link adjustment holes for suspension tuning
* Adjustable shock mounts for fine tuning ride height and driving style
* Adjustable body mounts move with shock mounts to provide finite adjustment (angle and height)
* Removable electronics tray for easy maintenance and installation
* Waterproof receiver box with wire routing guides

* Multiple ESC mounting plates and configurations
* Low profile battery mount places the weight of the battery low and up front
* Oversized rod ends with large 7mm aluminum links sleeved in replaceable nylon
* Nylon upper links to remove unnecessary weight from the top of the suspension
* Full Ball bearings (Oversize differential bearings)
* Differentials: Locked style (spool)
* Wheels: Axial 2.2 Competition Beadlocks
* Includes CNC Orange anodized rings
* Licensed by Vanquish Products to work with their patented wheel weight system
* Minimal beadlock hardware for ease of assembly
* Offset to increase steering response and strength
* Suspension: 4 Link double triangulated
* 72-103mm shocks: Includes aluminum bodies and 10mm machined piston
* Axial Hardline Body
* Competition inspired body
* Meets all minimum requirements
* Minimalistic design with stylish tapered front and rear to clear tires throughout suspension cycle
* Rounded roof line and cab forward design for improved recoveries
* Optional Cutting Brakes for XR10 rear axle
* Rear axle upgrade kit that will allow for individual drive of the right and left tire on the rear axle
* Requires an additional servo and channel on the TX/RX
* Allows for very tight turns and maneuvers in extreme conditions
XR10 Measurements
* Wheelbase: 317.5mm (12.5") Max
* Front Wheel to Wheel (outside) Width: 260mm (10.20")
* Rear Wheel to Wheel (outside) Width: 241mm (9.50")
* Height: 5.25"-6.75" (133mm-172mm)
* Ground Clearance: 1.75"-3.40" (44.5mm-86.5mm)
*Note: Height and Ground Clearance measured with Pro-Line Chisels and memory foams with no weight added to the wheels
Hardline Body Measurements
* Length: 324mm (12.75")
* Width: 134mm (5.25")
* Height: 89mm (3.5")
* Electronics (Not Included)
* Radio: 2, 3, or 4 Channel
* Servos: 1 (Standard Size)
* Speed Control: single or dual
* Motors: Dual 540 sized motors
* Battery : Compact LiPo, 2/3a, LiFe packs (Maximum size 30mmx25mmx90mm)
Check out Axial's site for the official tease.