Baja Skunkworks 2 speed for Baja 5B & 5T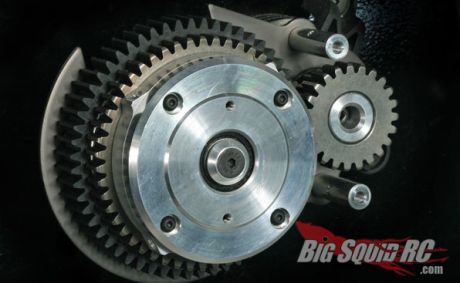 Baja Skunkworks (you know, those guys responsible for that crazy Baja 5T tank… yeah, you remember) have put together what could possibly be a must have accessory for 5B and 5T owners.  Their new 2 speed transmission has been in development for 3 years now and they say it has features that competitors don't.  One of the bigger bullet points is that the Baja Skunkworks 2 speed has a set and forget shift point.  Once you get it where you want it the shift point should never need to be adjusted again.  The kit comes with 51:23 gearing for second gear and more options will be available at a later date.  The first gear is designed to use HPI's OEM spur gears which allows you to use any gearing that fits the gear carrier and clutch system.  It's also said that this 2 speed is "bombproof" to stand up to all those tricked out Bajas with tons of heavy billet parts.
The 2 speed is available now for a list price of $350.  Baja Skunkworks gear is exclusively distributed by TGN Distributing, check out the TGN web site for more info.  There's a video of the 2 speed in action after the break, click read more to watch it.