Bash-A-Palooza Prize Update!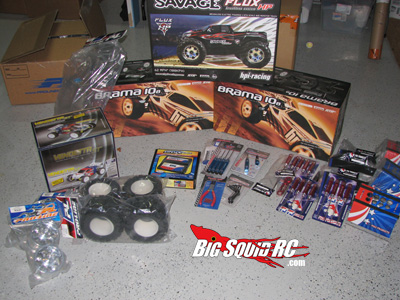 Sunday, August 16th 2009 is the BASH-A-PALOOZA event at the Leisure Hours Raceway track! If you have been 'thinking' about going to the event, maybe this picture will help seal the deal. This is not ALL the prizes, the Big Squid RC work shop was already getting crowded enough.. there are more wheels/tires, tools, and other stuff I didn't put out here.
For those interested in in specifics, here are a few of the raffle prizes!
NEW HPI Savage FLUX!
2 NEW Brama 10b Buggies!
New Duratrax Vendetta ST!
New Onyx Charger!
Tons of RC Pro Tools
Tons of Duratrax Tools
Pro-Line wheels, tires and body!
Plus all the great events planned, how can you not want to be part of Slash Demolition Derby?! Or the Long Jump Contest? I hope to see you all there!