Bash-A-Palooza Thank You!

Well the BASH-A-PALOOZA event has come and gone! I wanted to take a moment to thank all the people that helped make the event special! Without them I would never be able to pull it off! Bill S. (Firesprink281) did an amazing job on the ramps and obstacles, while putting up with me yelling and panicking about everything. Thanks man, you rock!! Thanks to Jon at Leisure Hours for his work on the mic and getting everyone registered! Awesome job as always! Thanks to Scott and Bernie at Leisure Hours for letting us use their amazing facility! Hopefully us 'non-racers' didn't mess the place up too bad. Thanks to Matt G. (Our newest writer) Ben, Chris and everyone else who helped out at the track getting things ready.
Thanks to all the awesome sponsors!
HPI Racing, DuraTrax, O'Donnell Racing, RC Pro Products , Pro-Line Racing. All your support has been greatly appreciated! Lets hope we can keep the event growing!
Lastly, thanks to all the bashers and Big Squid RC fans! Without you guys, this event just wouldn't happen! You guys keep the web page and events growing! See you at iHobby! Thanks to pro driver Tim Mohr , Jim, all the guys from way south (they drove 5+ hours to be there today!) it's always great seeing you guys.
The turnout of people keeps growing, lets see what we can do to double the amount next year!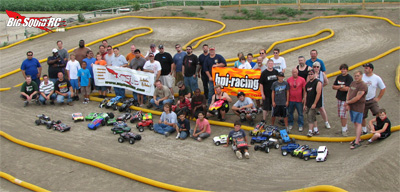 I know there were a lot more cars then this there, but I guess a few got left inside since there was some major destruction after the Monster Soccer event. Make sure to visit those sponsors when ordering parts and new vehicles.
There will be a big write up and pictures, and videos sometime this week after I get the videos grabbed and some sleep!