Bashers Basics – Soldering
The world of RC is a great and vast hobby, but no matter where you travel throughout the hobby, at one point or another, you will come across something that requires you to solder. For someone that doesn't have previous experience with industrial equipment, it may seem extremely daunting, from the specialized tools needed, to the safety risks. But never fear, Bashers Basics is here!
Firstly, you need to understand the applications of soldering. I have seen many people confuse soldering with welding, and know that it is completely different. Soldering can only be used to connect wires to a subject (battery connectors, esc's, motors, etc.). Now that is cleared up, we can turn our attention to the first step, equipment. There are many accompanying genres of paraphernalia, but the main things you are going to need are:
Soldering Iron Station
Solder
Shrink Wrap
Iron Cleaner
The first and most expensive purchase is the Soldering Iron Station. If you are on a strict budget, you can find low powered irons for as low as $10! This is not recommended however, as a low powered iron can take longer to saturate larger wires, and even melt the plastic coating off of the wires, rendering your efforts mute. From experience, I always recommend the Trakpower TK955 Digital Soldering Station. Capable of both extreme heats, and extreme precision it is the ideal all-in-one machine! Concerning the other things on our list, there won't be much difference in what you get between manufacturers, so just make sure you look at some reviews before you order.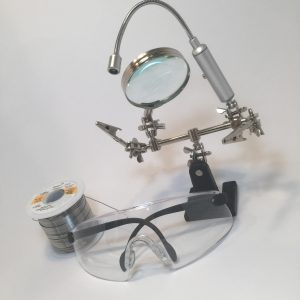 Now that you have all your equipment, now we can get to work. Firstly, you will need ballistic glasses, so your eyes are protected against flecks of molten solder going in your eye, ouch! Next heat up your soldering iron. It is advisable to hold the item with pliers, just to make sure the heat from the iron doesn't burn your hands. I recommend you get some jewelry helping-hands, they have helped me numerous times to get an additional level of precision when I solder.
Now its time to actually solder! Firstly, get a small amount of solder on the tip to get it prepared, then you want to put some solder on the wire. You want to make sure that the solder is able to get between the fibres of the wire, and is fully saturated within the wire. Now you can add a bit more solder to the end, get the solder on the end of the wire molten, and then apply to the desired object. Keep constant pressure while the solder cools and solidifies. If you have put shrink wrap on, make sure it is away from the end of the wire, otherwise it will shrink in place before you move it into position.
The last thing that you will want to do is clean your soldering iron. The station will come equipped with one, but make sure there is no solder residue left on your iron, otherwise it will make the iron less accurate the next time you use it.
Well that wasn't too hard was it! I hope that this helped you to be more confident in the future, and that soldering won't hold you back. See you next time, Happy Bashing!
Check out more Bashers Basics at this link!