Bashers Basics – The Bench – Vehicle Transportation
Man you are really enjoying this RC thing! However, it sure is a real pain to drag your whole setup of the truck (maybe two) controller, batteries, tool set, and a whole plethora of different spare parts and extra odds and ends! Whether you are going on a trek with your trail truck, or just going for a good old fashioned bash at a local field, there is always that nagging feeling that you are forgetting something back at base camp, and if luck is anything to go on you likely have! Hey, it happens to the best of us, but if only you had some kind of "go bag" that you could put all your stuff in to ensure that you never forget anything again!
The first option you have is the Protek Hauler Bag, with 5 big drawers and handy quick access top tray, it is the last word in RC preparedness! It will cost you a pretty penny, but it will be worth it when you are the most kitted out guy at the local bash spot!
Remember, however you construct your "go kit" make sure to have an "essentials" box, with some of the most used parts, so you don't need to be digging around in your bag if you break down with a regularly occurring breakage! You can see mine below.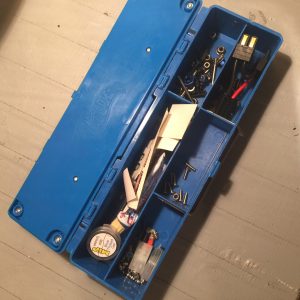 A more light weight option is the Jconcepts SCT Backpack. There are many different brands with RC-focused backpack, but this specific one boasts room for a full short course truck, designated tire pockets on each side, plus pockets for tool kits, batteries,  controllers, and more!
I personally use an AKA Racing back pack, since it has enough room to carry spares, different wheels and tires, in addition to the truck itself (two if I really want too).
Whichever "mobile command centre" you choose, make sure that it holds all you need it too, while keeping it light enough to be easily taken wherever your truck goes! Hopefully this helps you get to your local bash spot quicker, and more prepared, than ever before!
Check out more Bashers Basics at this link!