Bashing at Oakridge Hobbies and Toys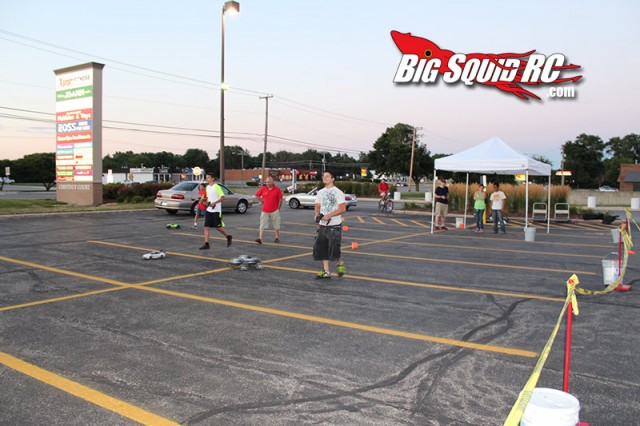 So a few days ago I got an email from a reader that asked if I knew anything about the Wednesday night bashing that was going on at Oakridge Hobbies and Toys, a local shop here in the Chicagoland area. To which I replied, nope, but you had me at bashing! The next day I grabbed my camera to head out and look for this mystical night bashing, and sure enough there were a bunch of people in a parking lot tearing it up! These guys were running anything and everything. Nitro, electric, monster trucks and on-road. Living up to true basher style there really wasn't much organization, just a bunch of people having a blast, jumping ramps, racing to the end of the parking lot, and breaking stuff at high speeds. Apparently these evening bashes have been going on for a couple of months, and are on Wednesdays from 6pm to 9pm, but I was told they often stay later as the lights in the parking lot stay on after 9pm.
If you are in the Chicago Suburb area on a Wednesday night with nothing to do, maybe stop on by and check it out. Heck, you might catch someone from the BSRC crew! Everyone was friendly, and helping each other out from tuning to vehicle repair. While I was there, I handed out a bunch of stickers as well as gave the LaTrax Rally a little more testing while trying not to be a speed bump for the monster trucks.
For more information, you can check out the Oakridge Hobbies website, and don't forget to tell them Big Squid RC sent ya.
Speaking of bashing, don't forget our Big Squid RC Bash and Swap Meet is coming up fast!