Big Squid and Cubby on the Front Page of Axial!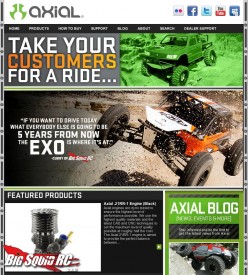 Normally any email I get that involves Cubby goes south pretty quickly. As soon as I see his name, it's time to start the damage control. Well the email this morning was a pleasant surprise! We got word that there was a quote on the Axial front page from Cubby's Axial EXO Terra Buggy Review! At first I didn't believe it, checked the date, wasn't April 1st so Cubby wasn't messing with me, lol. We have saved the proof here in a screen shot, but if you want to check it out for yourself, head over to the Axial website!
While your at it, make sure to read the EXO Review and see why he said what he did.