Big Squid Podcast – Episode 12 – Horizon Hobby Greg Sopa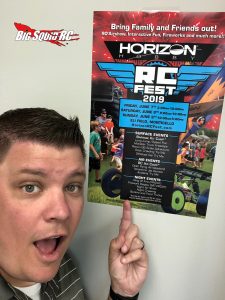 Greetings to all of our podcast fans! Welcome to another Big Squid RC 2019 podcast!
This latest episode is a chat with Greg Sopa from Horizon Hobby. He joins us to talk about the upcoming Horizon Hobby RC Fest event. For those that are wondering what goes on there, what you can do and experience, Greg does a great job of laying it all out.
It sounds like it's going to be another awesome event you don't want to miss.
Big Squid RC will be there to help run the Long Jump and Sumo events.
Podcast: Play in new window | Download (Duration: 43:09 — 59.4MB) | Embed
Subscribe: Google Podcasts | RSS
To get more details click the here for the Horizon Hobby RC Fest 2019 page.
Click Here to see all of our Podcasts on BigSquidRC.
Thanks again for listening! Please subscribe wherever you get your podcasts so you don't miss a new episode! Give us a thumbs up, or hit like or whatever your system lets you do to show your support. Feel free to let us know what you think. We want to make sure you are enjoying the shows and the more subscribers we have, the more we know we are on the right path.