Big Squid Podcast – Episode 14 – JConcepts – Jason Ruona
On today's podcast we'd like to welcome Jason Ruona, the owner of JConcepts. It's a great listen, and interesting to hear some of his takes on the many genre's that exist in the RC world, and all the ways JConcepts covers all the corners. Jason talks about how he got his start in RC, and where JConcepts is going in the future. Enjoy!
Podcast: Play in new window | Download () | Embed
Subscribe: Google Podcasts | RSS
Special thanks to Jason for giving us an evening of his time to get the podcast done.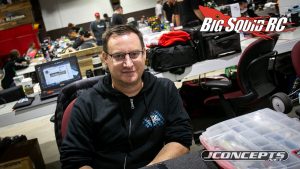 Please head over to the JConcepts official website to get more info about some of the products mentioned and show your support.
Click Here to see all of our Podcasts on BigSquidRC.
It's been too long since our last podcast, and believe me, we are doing our best to fix that.
Thanks again for listening! Please subscribe wherever you get your podcasts so you don't miss a new episode! Give us a thumbs up, or hit like or whatever your system lets you do to show your support. Feel free to let us know what you think. We want to make sure you are enjoying the shows and the more subscribers we have, the more we know we are on the right path.