Big Squid RC 2013 Bash Vehicle of the YEAR!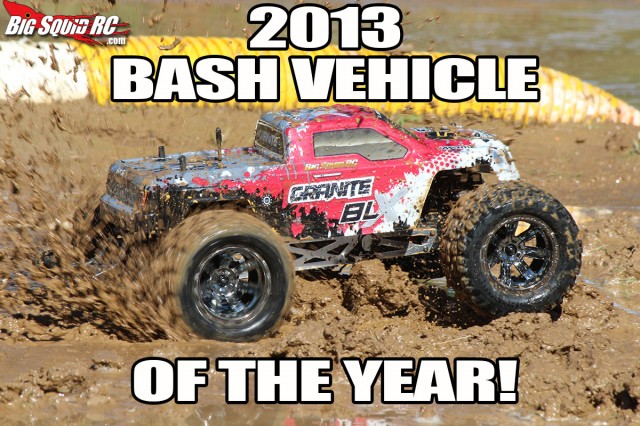 Congratulations to ARRMA RC because their ARRMA Granite BLX has won our coveted 2013 BASH VEHICLE OF THE YEAR AWARD! We tested a LOT of vehicles this year. As a matter of fact, I believe we did almost two times as many reviews in 2013 as we did in 2012, so for this vehicle to make its way to the top means it was really something special.
This award is voted on by members of the Big Squid RC staff, and similar to the way we do our crazy March Bashness where you guys get to vote, we put all of the vehicles in that we believe have a chance, and we vote for which vehicle we thought was the most fun, toughest, and bash worthy. As you may recall, the ARRMA Granite won the 2012 award also, and the BLX version was basically an improvement on an already awesome bash vehicle. It was faster, and took one heck of a beating. If you don't believe us, check out the REVIEW we did, and watch the VIDEO of it in action.
If you are looking for an all around bash vehicle that will bring a smile to your face every time you take it out, this is the vehicle for you. The ARRMA Granite BLX is an all around awesome basher!
In a very close second place was the Duratrax 835E 1/8th Scale RTR Buggy. You can read the REVIEW HERE. The buggy was tough, fast, and a huge step up for the Duratrax name. Possibly their best release to date! The only reason it was second place was it was a buggy, and the ground clearance didn't let us do some of the bashing things we like to do.
We all loved this truck. We cast our votes, and it kept beating out its competitors. Other vehicles in the same monster truck category just couldn't compete with the durability the Granite had, and thus it's the winner.
Congratulations again to ARRMA RC! You guys need to pop another bottle of champagne tonight!