Big Squid RC – 2014 Quadcopter Championship
Mark your calendars and warm up those thumbs! Saturday, March 1st 2014 is official date of the Big Squid RC 2014 Quadcopter Champsionship!Every RC'er on the planet now owns at least one, so it was time to get something organized and have some fun. Don't let the word Champsionship scare you. We are planning on a day of fun and friendly competition for everyone. The classes and events should make it easy for everyone to be able enjoy themselves.
Classes: There are 3 classes. Nano 2″, Micro 6″ and Mini 8″. This is an indoor event so we are keeping them small this time around, while keeping it more accessible for a lot of the newer quad fans out there. There are a LOT of quads in or around these sizes, and they aren't all exact, so don't worry if your quad is slightly over or under one of the above classes, you are still good to go.
Examples in for each class:
Nano 2″ Class – Estes Proto X Nano Quadcopter.
Micro 6″ Class – Heli-Max 1SQ, Traxxas QR-1, Blade Nano QX, Ares Ethos QX 75
Mini 8″ Class – Ares Ethos QX130, Blade 180 QX, Align M242, LaTrax Alias
Events: There will be 3 main events, Obstacle Course, Pylon Racing, and Drag Race, along with a couple other surprises. Trophy's will be awarded to the top 3 in each class. The 1st place finisher in each class will also take home new quadcopter.
Entry fee: $5 per class. 1 Entry per class allowed. You are allowed to enter more than one class.
Location: 15551 South 94th Ave, Orland Park, IL. 60462 (Google Maps Link )
Sponsors: Big Squid RC, Ares RC, more TBA.
Flyer: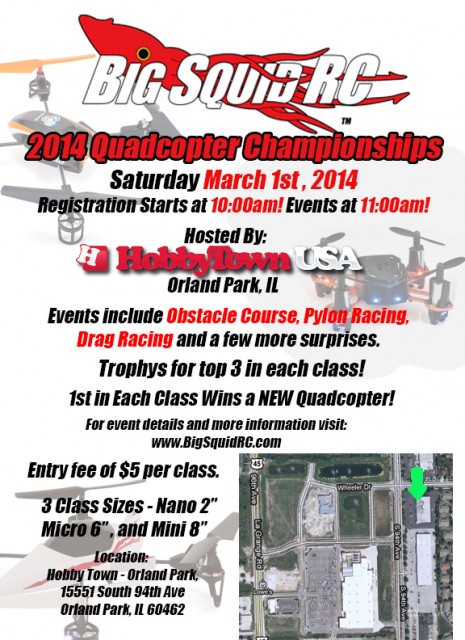 Grab the PDF of the Flyer here.
Cubby had a great summary in his Cub Report:
For all you pilots out there, if you want to come and show the world you are the best, that's great, but if you want to just come and have some fun flying your quad that is even better. If you are an industry type, of course you are also invited. The event is about 2 hours north of the epicenter of the rc world, Champaign Illinois, and you are cordually invited to compete and to just hang out with a bunch of gnar-core quad consumers. Also, if you want to have your brand and products associated with the event, or want to be a sponsor, be sure and shoot Brian an email (hit the contact us link at the top of this page) to get in on what is certain to be the biggest, most kick ass quad event ever held.
We have been contacted by a few industry people, and it sounds like they will be making the trip.
If you have ANY questions, drop us an email, or leave a comment below. Will will update this post with more details about events and answers to questions people may have.
Forum guys, please share this post to anyone who may be interested in attending. Please link back to this post when sharing on the web so we an make sure people have the latest information.
Check out the second flyer