Big Squid RC Driver Tim Mohr Takes 3rd at Chitown Shootout!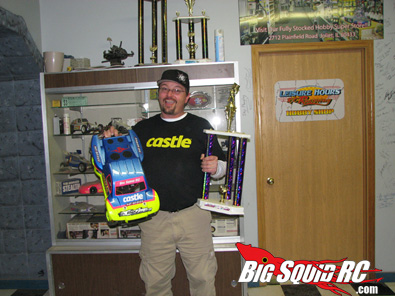 A big congratulations goes out to our driver Tim Mohr who took third in the A-Main for Mod Short Course truck this weekend at the Chitown Shootout event at the Leisure Hours Raceway! There were about 290 entries this weekend, and a ton of classes with some great final races! Tim was racing the HPI Blitz and it handled great! He said he didn't break a part on the Blitz all weekend!
The pits were packed, and it was elbow to elbow everywhere! Always good to see tons of familiar faces, and meet a bunch of new ones!
I'd like to mention that the folks at Leisure Hours did a great job on race day! All the races moved very quickly! None of this waiting around for 30 to 60 minutes between each race like a ROAR event. When one race ended, the next group was on the driver stand and ready to go!
For the most part, the drivers were pretty calm. No big blow ups. It was also great to see some kids running in the novice classes! I know both Cubby and myself have complained many times about the lack of kids coming into the sport, but there were a couple dozen at the track this weekend! Keep it up guys!
Congrats again Tim!