Big Squid RC Presents – March Bash-Ness 2011!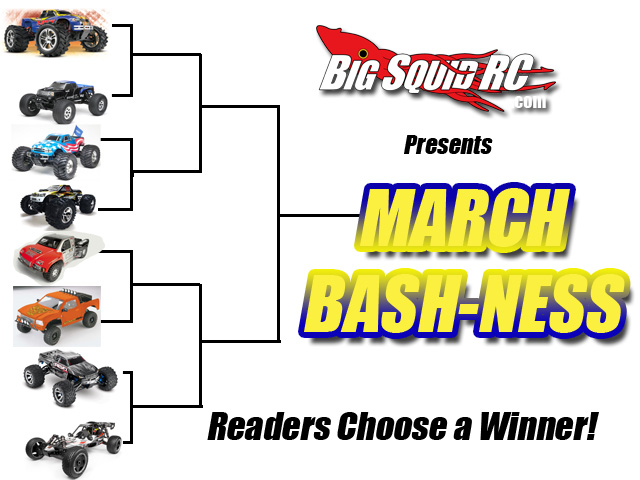 [Update: Comments are now closed, we took the 16 most popular names from your comments below and now we're building the bracket, keep an eye on the front page for the first round of polling, coming very soon.]
Ok Big Squid RC readers, listen up! This is your chance to voice your opinion for best bashing vehicle! This is how it's going to work, post in the comments what vehicle you think should be put into our bracket for best bashing vehicle! It can be ANY vehicle you think is worthy of being voted 'Best Basher!' This is going to be completely based on readers choice and voting! We will take the top 16 vehicle people think belong in the bracket, then we will create the bracket and every few days allow the readers to vote online for what vehicle moves on, and what one goes home. At then end, there can be only one, and it will be up to our readers to decide! As we get close to the finals, look for some sort of contest, where we'll pick a random winner from the voters to win something sweet! (prize TBA)
So the comments for this post are ON! You can even suggest a few vehicles if you like, they don't have to be new, but they do have to be available! (No votes from the future). Please no wars in the comments, we don't need to know why one sucks, or why one is better, just comment what vehicle you think should be in the bracket!