Big Squid RC to invade Route 66 Raceway!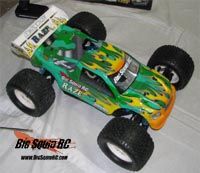 Well, it looks like I got my Duratrax
Raze ST just in time! Big Squid RC along with Hobby Town USA of Orland Park IL will be doing a 20 minute show just before the big Route 66 Monster Truck event THIS Saturday!!! It was a little short notice, but I think we will be able to pull off a decent show for the fans as well as help spread the word about the hobby! What better place to show off little monster trucks you can drive yourself!
Myself, Pro-Driver Tim Mohr, Bill (firesprink281), Chris (thenewguy821) will be out there doing are best to go big or go home! This is one of those events where, you don't want to break anything on the first jump.. because you need to be out there for 20 min! But you want to wow the 10,000+ crowd who is about to watch real monster truck action. Hopefully everything goes well and we don't break till the last second! (Which I hope will be spectacular) I'll have the new Duratrax Raze ST there, I hope I can get it broke in and ready to go in time! If you are in the area, you should stop out and say hi! Also check out all the action!
Speaking of monster trucks, I have been informed that Hobby Town USA in Orland will have the new 1/18th scale Losi Raminator Monster Truck as well as the FULL SIZE monster truck at their shop this Friday from like 2pm to 7pm. (Call for exact hours.. I may be wrong a little). How cool is that? I'm going to try and stop out there, get a few pictures.. maybe drive the real truck around a little. 🙂
Again, if you are in the area, stop out there! Say Hi! Tell them BigSquidRC sent ya!