Big Squid RC Wins Rock Crawler Event!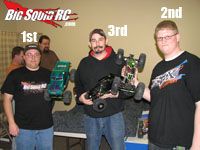 Today was event #2 of 4 in the Suburban Chicago Rock Crawlers point series. Todays RC Rock Crawling event was held at HobbyTown USA – Orland Park. There was a lot of talk about this course early on since nobody had really run on it… ever. Nobody really knew what to expect from the course, but I think everyone enjoyed the event and the course was pretty cool. It had a TON of traction, and the suspension bridge was good fun! It was very different then the other rock crawler courses since this one does not really have any give. There is no muscling rocks out of your way, it was all about picking a good line, and staying on the course.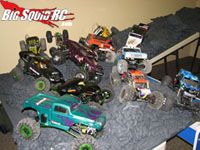 The scoring was VERY close. I drew the short straw and ended up being the first (guinea pig) to run the course. It's tough to be first because you didn't get to watch anyone else's lines. You don't know what's good or bad. After the first run I had a -4 score (that's good) and there was a tie for second at -3! Then, because I had the best score of the first round, I had to go first AGAIN in the second round. No pressure there! Again I didn't get to see anyone else's lines. I don't think I could of did any better if I opened my eyes, so I kept them closed most of the run! I was really happy with the first place finish. I was one of the few guys without a seriously hopped up car.
Fist Place: Big Squid RC (Brian), Second Place: Matt, 3rd Place: Jason. I think that's everyone's names… if I got it wrong, drop me a email I'm sure Jeff (jetboat) will post up the final scores in the forums. It was great seeing everyone today, glad so many people made it out there.