Big Squid RC's 20 Days of Christmas Contest!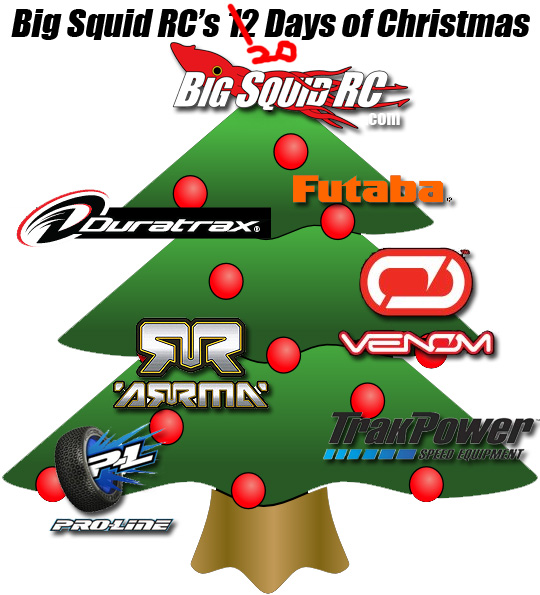 Welcome to Big Squid RC's 12 20 Days of Christmas Contest! Christmas is a time of giving, we know, most people do 12 days, but our sponsors are just too awesome to do some wimpy 12 day thing, so we are doing 20! Before we get to the details, we want to thank the following sponsors, go click the links, buy some stuff and support them because they are all awesome!
Thanks to Duratrax, Futaba, Pro-Line, Arrma, Venom, and TrakPower! You guys ROCK!
So what is this crazy 20 days of Christmas you ask? Let us explain..
EVERY DAY for the next 20 days we are going to give away a prize!
To enter for a chance to win, you must COMMENT on that day's prize post with a valid email or on our FaceBook wall. On Facebook, you will need to LIKE us and/or the post of the day AND leave a comment on the wall. Something like "I want to win the Day 1 Prize on Big Squid RC". Pretty simple right? You will need to enter each day for a chance to win that prize.
The prize will change each day, but we are probably saving the big stuff for the last few days.. need some suspense right? But you never know, we could throw a big one in the middle somewhere!
Prizes: Duratrax Evader DT, Venom Gambler SC, ARRMA Fury SC, TrakPower 950 Soldering Station, Pro-Line Bodies, Wheels and Tires plus some PL Swag, TrakPower Speed Wash kit, Futaba Fleece Jacket, TrakPower Swag, Duratrax Tool Kits, Duratrax Race Cones, TrakPower Fuel Bottle, Big Squid RC T-Shirts, TrakPower T-Shirts, Futaba Can Cozies + Much MORE! (It's not all arrived yet, so more details coming soon!) How awesome is that stuff?! And EVERY WINNER will also get a set of Big Squid RC Stickers and 3D Glasses!
Fine print/rules: Contest open to US and Canada addresses only. (Sorry rest of the world).
If you already won a big prize from Big Squid RC in 2011, you are NOT Eligible. So if you already won a vehicle, or something expensive from us, please don't try and win another. We know who you are! No purchase necessary, just LIKE US and leave a comment EACH day and you are entered! Some keep coming back to see what the prize of the day is.
Rules may be subject to change if we messed something up, so 😛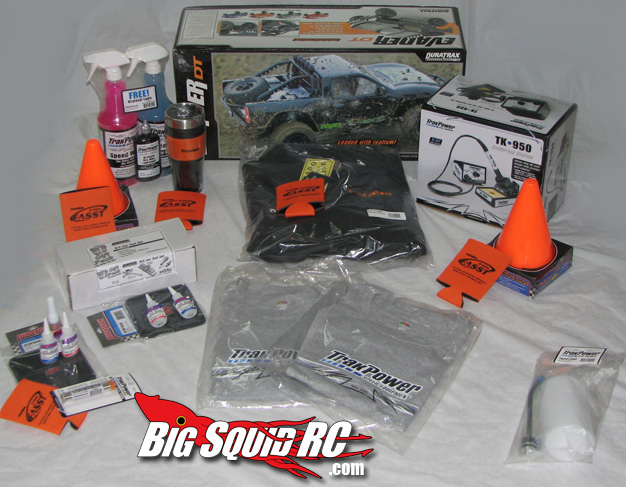 More prize pics coming soon!
Ok, that's it! Tell all your friends and watch for the 20 Days of Christmas individual day posts, get moving!