Big Winners at iHobby 2014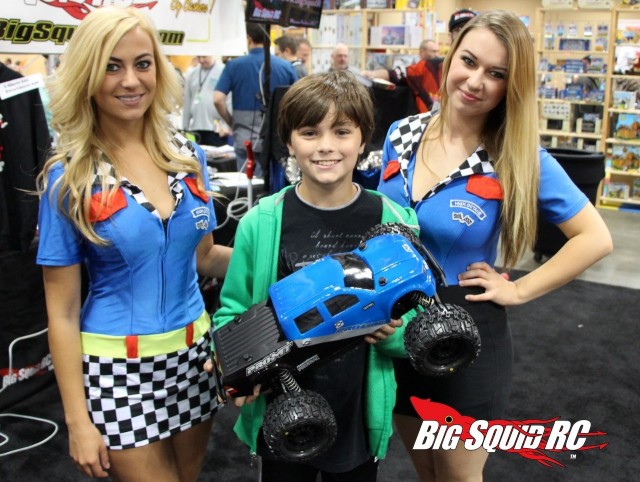 Doesn't the young man in the picture above look happy? He sure does, he is the first owner in the entire world of the new Pro-Line Pro-MT monster truck. We ended up giving away a second Pro-MT as well, you can see its happy owner in the second gallery below.
We were very fortunate to be able to give a lot of cool gear this year at iHobby. We would like to give a HUGE Thank You to Pro-Line for letting us debut and give away the first two Pro-MTs off the production line. Our full review of the Pro-MT goes up Tuesday October 14th.
We would also like to thank ARRMA for letting us give away a Fury and a Vorteks. Big thanks go out to the folks over at Dromida who hooked us up with numerous Ominus quadcopters, and to Axial for letting us give away one of their Ram trucks. More thanks go out to Heli-Max for the 230Si quads we gave away and to Kyosho America for the Mad Bug. Estes let us give away a bunch of their Proto-X quads, they might be tiny but they sure put a huge smile on peoples faces.
Congrats to all our winners at iHobby, next up is giving away a brand new Axial Yeti XL at our 10 Year Anniversary Bash in Joliet Illinois on October 19th. If you want be the first person in the world to own the Yeti XL, join us at our biggest bash ever for a chance to win! We will also be giving away one of the super high-end Futaba 4PX transmitters along with tons of swag!
Click Here for more iHobby 2014 news.