BigSquidRC Road Trip – Axial Racing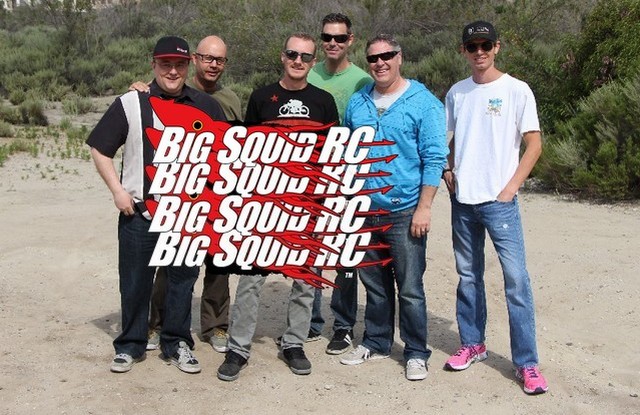 I knew we were in trouble when we pulled up in front of the Axial Racing offices. You see Brian and I were dressed more for a boardroom than we were for walking around in the desert, and by the looks of the myriad of hardcore off-road vehicles in the parking lot, I doubted we'd be spending much time indoors. I was right, we spent most of our time at Axial pulling trigger, something that we both prefer (but were not dressed for, LOL).
After some introductions and a quick tour of their facility, the Axial crew loaded up some trucks, batteries, and tools, and we hit one of their local uber bash spots. They told us they had a killer spot to bash just around the corner, which we hear all the time and it rarely turns out to be true, but the Axial guys were not kidding. Just a few blocks away was an area with a variety of terrain, but more importantly to us, it had HUGE jumps, and LOTS of them.
Much like us, the Axial crew proved in person that they love bashing hard, very hard. They kept going bigger and higher, and before we left one of their guys said "Finish them off!". If you are a basher, you know what that phrase means, if not, it means to keep going bigger until everything is broke to finish off the day. It's a pretty common phrase when we go bashing, and we were kinda blown away that the Axial crew have the exact same mentality as us.
Needless to say we had a great time bashing with the Axial crew and pushing their products to the limit. We would like to publicly thank Rodney, Jeff, Brandon, Jamie, Andrew, and Matt for all their hospitality and the opportunity to find out what they are all about – having insane amounts of fun with rc trucks. 🙂