BigSquidRC Road Trip – Horizon Hobby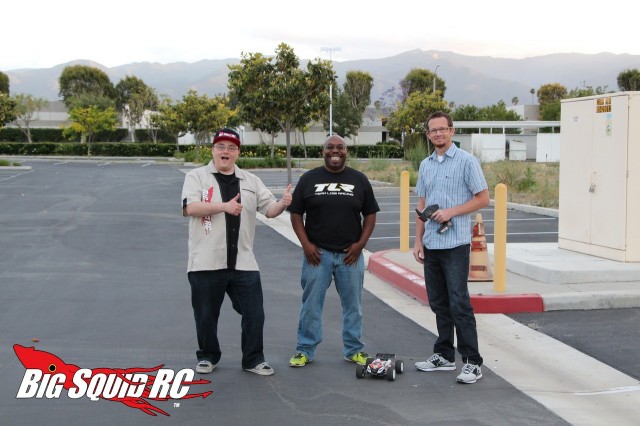 During our Southern California Road Trip, the fine folks over at Horizon Hobby were kind enough to let us drop by their offices for a visit. The Horizon offices are home to such brands as Vaterra, ECX, Losi, Pro Boat, and TLR.
While some of the Horizon brands are intended for hardcore racing, we soon learned that all the guys at Horizon were very basher friendly. We found that they honestly care about hardcore bashers, and are especially concerned about first day noobs. We had several long conversations, many of which centered around things we could be doing to make the hobby more noob friendly. It was nice to find the IFMAR and National Championship drivers sitting around the conference table were very much like us, simply wanting everyone to have the best experience possible in the hobby.
After the bench racing session the Horizon crew grabbed one of their new Losi Mini 8IGHT-T Truggies and we headed outside to get some serious bashing in. We found the Mini 8IGHT-T a blast to drive, and that the Horizon guys were just as hardcore about their bashing as we were. It's nice to know the people designing the next generation of bash vehicles drive them like they stole them, just like we do.
We not only had a great time hang'n with the Horizon guys, but also learned a lot about the hobby from their perspective. We would like to give Jukka, Rich, Ray, and our homie Scott Hughes a super huge "Thank You!" for taking the time to visit with us.