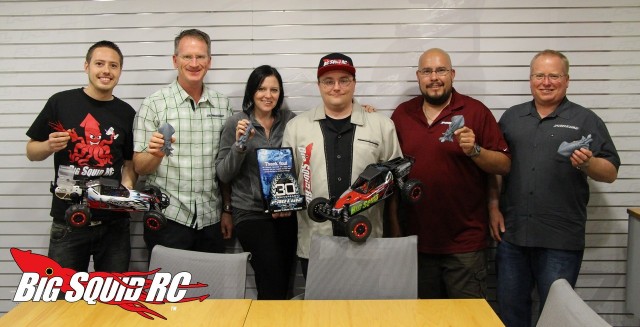 This week the BigSquidRC Bash Crew made a big Road Trip to Southern California. We've been wanting to road trip SoCal for a long time now, to get in some "face time" with the makers and shakers of rc, and to generally learn as much as possible about the rc scene on the West Coast.
Both personally and professionally, we've been big fans of Pro-Line Racing products for decades now, so naturally we called up the PL crew and asked if we could drop by for a visit. They generously gave us the green light.
Everything at Pro-Line was top notch. From their huge outdoor track, to their waiting area, to their machine shop and shipping area, everything was clean, neat, and organized. Their facility was dialed, just like their products.
If you don't already know, Pro-Line is a true manufacture of wheels, tires, and bodies, right here in the USA. From the inception of a product idea, through the actual production, all the way to shipping it out the door, Pro-Line is very proud of how many of their products are American made. While it might be easier/cheaper to have products made overseas, they prefer to go the proper route, making them themselves.
After the full tour, the Pro-Line crew was nice enough to give us some very cool hook-ups. Matt from Pro-Line used their in-house 3D printer to make an incredibly detailed Squid for us to take home, and they even hooked us up with a super trick Pro-2 Buggy, complete with BigSquidRC livery.
We would like to give extra special thanks to Todd, Jessica, Gerardo, Matt, Tim, and all the rest of the PL crew for making our stay so special. It didn't take long to see first hand that they not only want to put out the most innovative products in the wheel/tire/body industry, but also the very best you can buy, for racing, or for bashing.
*Update: We have gotten a few questions about who did the paint on the awesome body. It was done by Steve Burgess of Rugspin Graphix. You can get more paint info from their site at This Link