Birthday Bash with Adam!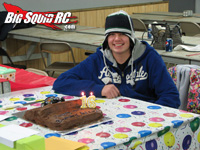 Tonight Bill and I braved the arctic snow to head over to Adam G's birthday bash at the Leisure Hours Raceway! Adam has been a good friend of Big Squid RC's for years now, and we were excited to get the invite to his private bash! There were tons of friends and family all having a great time eating food, cake and of course bashing!
Adam's mom made an awesome ramp cake which was thoroughly enjoyed by all, and yes I believe that is a Losi Micro on top! He also got some great RC related presents, as you can see here opening a Pro-Line Slash Carnage body.
Thanks again for the invite! We had a great time, and Happy B-Day from your friends at Big Squid RC!