Black & red is the new black, Venom Transporter Race Case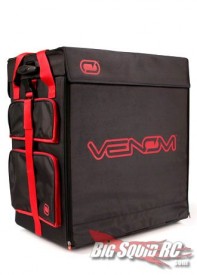 Venom has a new transport case, and it's a hot one, with looks to match the function.  The Transport Race Case features all kinds of pockets and drawers to help you carry everything you need and keep it neatly organized.  The top portion of the bag features a built in tool organizer.  The top drawer is large enough to hold a 1/8 scale buggy and there's four other drawers with plenty of room to store a lot of other stuff.  A lot of stuff usually means a lot of weight.  To help out with that problem the case also has wheels and a retracting handle to make moving it along easy on your back.
The Venom Transporter Race Case is available now with an MSRP  of $199.99.  Replacement drawers are also available at a MSRP of $69.99.  Check out the Venom website for more info.