Blade 350 QX RTF and BNF Quadcopter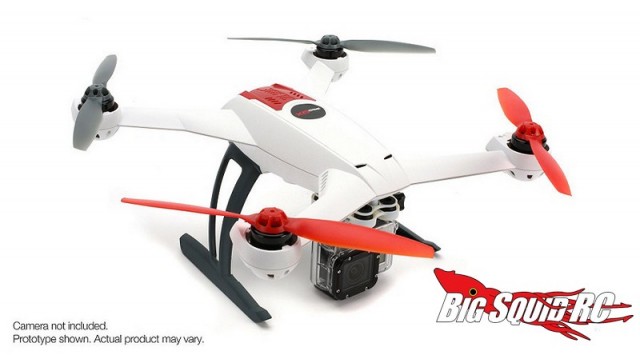 We posted a couple pictures of the new Blade 350 QX Quadcopter in our HobbyTown USA Convention coverage, now we have full information to share.
The Blade 350 QX was made large enough to pack around a Go Pro camera. There are a lot of people who enjoy posting their videos to YouTube, the Blade 350 should be a nice platform to get those shots of your rc exploits from the air.
The Blade also features all sorts of flight control. For instance, it comes with the popular "return home" feature, meaning with a flip of the switch the 350 QX will return immediately to where it started without any stick input. It also has SAFE stability technology, making it easy for even a noob to fly. Agility mode allows it to perform extreme maneuvers, while its internal GPS & Altimeter technology allow it to hover in a specific spot.
Some of the specifications include-
* Length/Width- 18.3″
* Height- 5.43″
* Flying weight- 24 oz
* Estimated flight time- 15 minutes
* Motor- 1100kv brushless
* Battery- 3S 2200 mah
The 350 QX comes RTF, part number #BLH7800 with street price $469, and BNF, part number #BLH7880 with a street price of $419. These are expected to be released sometime this fall, until then you can get more information on them at THIS LINK over on the official Blade website.
Want to read more Blade news? Check out THIS LINK right here on BigSquidRC.