Breaking Castle Creations News!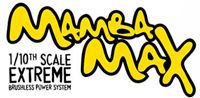 Stop the presses! Looks like all those Worlds Fastest RC Car speed records and RC Drag Racing times are going to be broken in the near future!
Castle Creations has just posted a page talking about their new 9000 kv Mamba Max Motor! You read that correctly, 9000 kv! The other kicker? It's $99! Wow. I can't wait to get one of these in the King Squid RC Dragster! Heck.. imagine this puppy in a Traxxas Slash!
Check out the official Castle Creations page Right Here!
We will do our best to get our hands on one of these things and start testing, so stay tuned!