Breaking News! Venom Creeper Rock Cralwer Announced!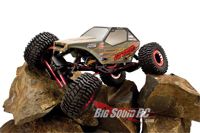 I just got the official press relase from Venom about their new Venom Creeper Rock Crawler! It's a 1/10th scale, 2.2 Class Rock Crawler, and it's designed to be used by anyone from beginner's to pros.
Some features are front and rear locking differentials that can be set manually, or with an optional micro servo! The truck also comes with memory foam inserts, which are all the rage lately, and they also have an optional wheel weight set that looks pretty cool. The Creeper also comes with a sealed gear box which I really like. A lot of people's crawlers have a lot of the gears exposed, and when your doing some bash-style rock crawling, you can get yourself into the tall grass or weeds, and it's good to keep that stuff out. The vehicle is set to ship in January 2009! Make sure to check out the Venom website for more details! I also like the name, I think it's a good choice, they just posted a video, check it out!