Brushed 2WD Short Course Truck Shootout – Jumping
Brushed 2WD Short Course Truck Shootout – Jumping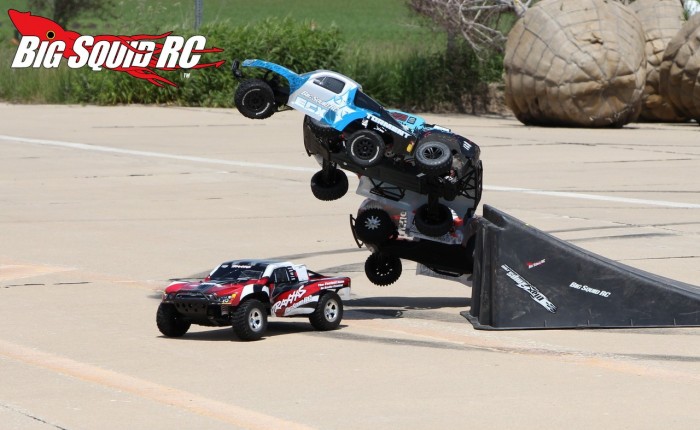 Are you a true basher? One way of telling is if you like to get major airtime. The bigger the better if you know what I mean. That's why our Jumping category is very important. Many consumers spend a whole lot of time in the air- the better their truck jumps, the happier they will be with it. After hitting a variety of different jumps on different surfaces this is how our Bash Crew stacked up the trucks.
Results-

| Points | Vehicle |
| --- | --- |
| 1 | ECX Torment |
| 2 | ARRMA Fury |
| 2 | HPI Blitz |
| 4 | Traxxas Slash |
Notes-
In last place came the Traxxas Slash receiving one first place vote, one second, one third, and one fourth. The Slash certainly doesn't jump poorly, but tended to jump a bit nose down for some testers and it tended to hop a bit more upon landing.
With voting in the jumping category so close, we had a tie for second place between the HPI Blitz and the ARRMA Fury. The Blitz pulled in two first place votes and two fourth place votes, while the Fury had one first place vote, two thirds and one fourth. It is interesting to note how important driving style was in this category as the Blitz was voted the best by two of our testers, and the worst by the other two. Of note for the Blitz was how it tended to jump a bit nose high and how it had some bounce when landing bigger jumps, while the Fury soaked up landings better than any of the other trucks in the shootout.
In first place was the ECX Torment. It didn't receive any first place votes but took the win with three second place votes and one third. Overall the Torment was very easy to catch air with and generally flew flat when airborne.
It's only natural to go from jumping to Durability testing.