Brushed 2WD Short Course Truck Shootout – Looks
Brushed 2WD Short Course Truck Shootout – Looks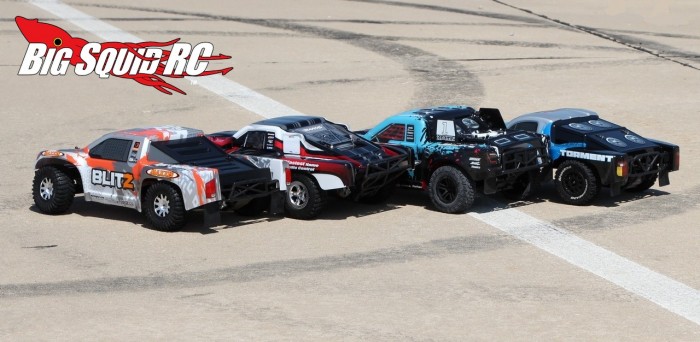 Looks are very subjective, a reason why we don't like including it in our shootouts, but we know we have to. Why? Because everything else being equal, a good looking truck will outsell an ugly one. For this category we gathered up four of our Bash Crew members and asked them to rank the trucks from best looking to the worst, this is how they stacked up.
Results-

| Points | Vehicle |
| --- | --- |
| 1 | ECX Torment |
| 2 | HPI Blitz |
| 3 | ARRMA Fury |
| 4 | Traxxas Slash |
Notes-
Coming in fourth was the Slash with two fourth place votes, one third, and one second. The graphics are sharp and the wheels/tires are scale looking, but the shape of the body turned some of our testers off.
In third was the Fury with two fourth place votes, one third, and one first. Its wheels/tires look good and its body shape is decent, it might have been the baby blue paint scheme that held it down in this category.
Voted into second was the Blitz. The HPI received one first place vote, one second place and two thirds. The Blitz has been a great looking truck for years, its scale tread tires and general body shape help keep it that way.
Taking the win in the looks category was the Torment with two first place votes and two second. Our Bash Crew liked that sharp, but conservative, looks of the Torment. The Bash Crew especially liked its highly detailed wheels and tires.
As we wing things down, the Features category can be pretty important.