Brushed 2WD Short Course Truck Shootout – Loose Surface Driving
Brushed 2WD Short Course Truck Shootout – Loose Surface Driving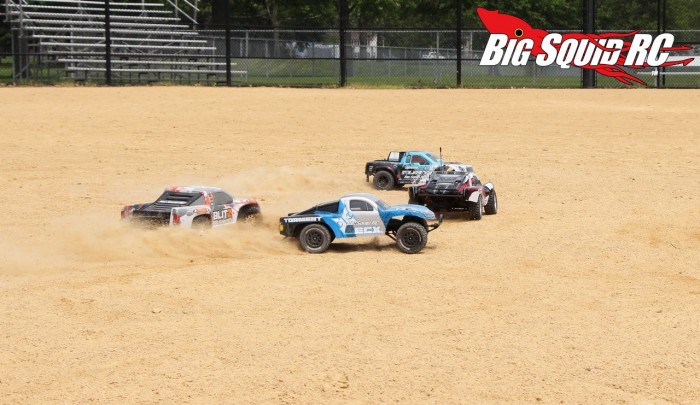 Now this is what short course trucks were designed for- dusty, dirty, bumpy off-road driving. We drove all the trucks on several different loose surfaces, from loamy dirt, to loose rocks, to a grass/dirt mix and had our test drivers take down notes so they could pick a winner. After switching back and forth between the trucks over several packs this is how they stacked up-
Results-

| Points | Vehicle |
| --- | --- |
| 1 | Traxxas Slash |
| 2 | ECX Torment |
| 3 | ARRMA Fury |
| 4 | HPI Blitz |
Notes-
In fourth place was the Blitz with four fourth place votes and one third. While it drove well on dirt, it tended to bounce more than the other trucks and seemed to carry less speed in the corners.
Third place was taken by the Fury with one second place vote, two thirds, and one fourth. Our testers felt like the Fury wasn't as planted as the trucks that finished above it and didn't turn quite as accurately.
Just missing out on the win was the second place Torment. The Torment received one first place vote and three seconds. The ECX turned well and was exceptionally easy to drive, but came in second due to its suspension being not quite as dialed as the winner.
Taking home the win in our Loose Surface Driving category was the Traxxas Slash. The Slash received three first place votes and one third. What put it on top was its excellent suspension settings which resulted in a truck that was a pure joy to drive in loamy dirt.
A new category for our shootouts, how is the Radio that comes in the RTR.