Buy a Upgrade RC Wrap and get a free Proline Racing Car Stand!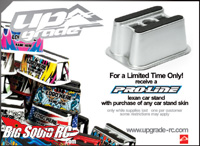 Upgrade RC is looking to wrap you up! Drop by and purchase a new Wrap for a Proline Racing car stand and get the car stand for free! Gotta love that price! Who doesn't like free stuff?
Drop by Upgrade RC and check it out!