BZM Micro's engine isn't all that micro…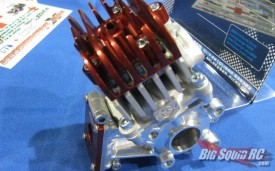 BZM Micro was showing off their new 23cc engine for the Baja 5 line at RCX.  This beast is an all new design, not just a bulked up Fuelie or Zenoah.  While this guy may be smaller than a lot of other after-market engines, it's numbers are anything but.  According to BZM's dyno testing, when this engine is paired to a Dominator exhaust it can put out over 6 HP at just shy of 15,000 rpm and a peak torque output of 2.54 ft/lbs @ a hair over 12,000 rpm.  That's a ton of power from a small package.
The 23cc version of this engine will be available very soon through TGN Distributing in the states and MMR Largescale over in Europe, and there's promise of 26cc and 28.5cc varieties coming later.  Check out the BZM Micro website for more info. Also there's a video of the dyno test, click the read more button to see it.
More RC Expo 2011 news here.