Carisma Announces USA Distribution Channel

Since getting our hands on some of the recent Carisma vehicles, and telling you about them, we have received weekly emails and Facebook messages asking people can buy them, and when they are coming to the US. Well, that question (that we have had the answer for little while now, but couldn't share) is that YES they are indeed coming to the US! Officially March 1st 2014 they will be available from www.TheJericGroup.com. The Jeric Group will be their official distribution channel in the US, so you will most likely be able to get the vehicles in local shops, or online at several retailers. Carisma mentions that they will have vehicles AND parts readily availalbe on March First. This is pretty huge news, as we know there has been a large group of people drooling over their new vehicles for a while now. If you are a hobby shop owner, we recommend giving the Jeric Group a call because we know a lot of people looking for these, and they will be happy to find them on your shelves. At least give a few of them a try!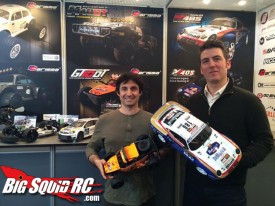 Carisma also let us know that www.Imodel.fr will be their official distributor for France.
We are happy to see Carisma make it's way over to the USA. Their vehicles have been really great (Check the reviews at This Link) and we are looking forward to some part support as well.
Check the Official Carisma Website for more info.