Caster Racing and Big Squid RC win at St. Louis RC Pro Series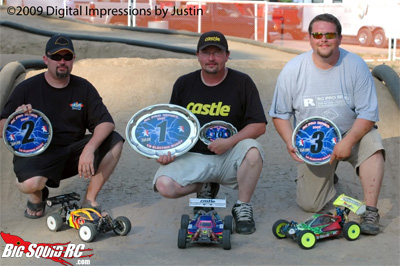 Caster Racing USA and our own driver Tim Mohr won big at the St. Louis RC Pro Series!
RC Pro Series Midwest Division Race #1 electric 1/8 scale division. First place and TQ goes to Team Caster Racing driver Tim Mohr running a Caster Fusion Pro, proving once again that Caster Racing products are very capable on the track. Caster Racing is the first manufacturer to make an electric 1/8 scale buggy and truggy and the radically different design from conversions is proving effective once again.
Way to go Tim! Also, Huge props to one of our other drivers and occasional guest writer (see The Slash Report) Jason Annis (on the right) Taking third! Great job guys, you ROCK!
Taking second place there on the left is Mike Marshal. Wanted to make sure we got everyone!