Castle Creations Sidewinder (SCT) Short Course Truck Edition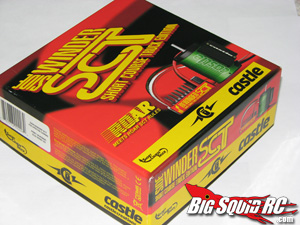 Today we got our hands on the new Castle Creations, Great Planes exclusive Sidewinder SCT Short Course Truck Edition Motor and ESC Combo! We will be installing it soon for some testing, but wanted to give you a few unboxing photo's before we get started.
We are really looking forward to the tests because the price point of $120 is awesome!
The pictures on the web sites when ordering don't show the additional fan/heatsink (CC Blower Fan and shroud) for the motor but it's there on the cover of the box, and of course also in the box. I was a little surprised to see that it's plastic. Guess we'll find out how well it works during testing!
They claim it has a 40% power boost over the previous 1/10 Sidewinder edition, so we are looking forward to some good short course bashing real soon! Come back for a full review!
Check out the Castle Creations web site for more info, or head over to the Tower Hobbies website to order for when they start shipping!