Castle Mamba Monster 2200kv Combo – World Exclusive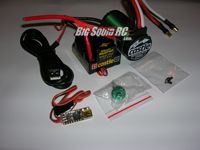 You are seeing it here first! We got our hands on the new Castle Creations Mamba Monster 2200kv Combo a little early! It comes with the Neu/Castle Motor, (designed by Steven Neu and Castle Creations), a Pinion, and the Castle Link. The street price when it starts shipping to the public should be $299.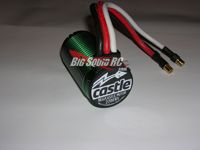 Some additional info: 18 Cell NiCad/NiMH or 6S LiPo ready. Brake is proportional with adjustable curve. Can reverse with lockout, low voltage cutoff is programmable. ESC size is 2.2″ x 1.9″ x 1.4″, connector type 6.5mm bullet.
Neu-Castle 2200KV is intended for 6S (25.2vold) operation, and built for monster trucks and buggies.
I'm a big fan of the Castle Link and software. We will be doing our best to get this into a vehicle for testing ASAP! Stay tuned!