CEN Matrix5-SC now available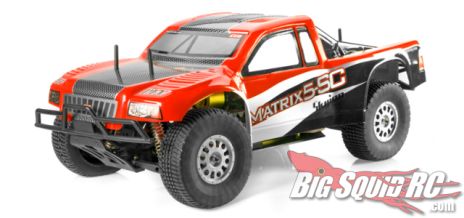 CEN Racing has heard the call and answered it.  That call was for a 1/5 scale short course truck.  The Matrix5-SC is built on their Matrix5-B buggy platform that has been around for a long time and has attracted quite a following.  The Matrix5-SC, just like it's siblings, offers full-time 4wd, big bore oil filled shocks, and a beefy dual brake system to bring the monster to a stop quickly.  It comes RTR with a Skyion DX-Pro digital radio system and a 30cc two-stroke gas engine.   The stock steering servo is capable of 200 oz/in of power to swing the massive 8″ short course style tires.
The Matrix5-SC is available now for $900 direct from the CEN Racing web site. But you might check with your local hobby shop for varying prices.
There's a video of this bad boy in action after the break.