The CEN Racing Ford F-450 Dually was teased about two years ago at SEMA show, then never seen until now. Dually's in the RC world are usually custom made so when we saw the pictures two years ago, it started a buzz that has now grown into an Earth-shattering Earthquake. When we got ours, we really did not know what to make of it, was it a crawler, a street truck, a trail rig? After some runs with the CEN Racing Dually we found out quick, so sit back and relax because the CEN Racing Ford F-450 DL Series Custom Truck Big Squid RC review starts NOW!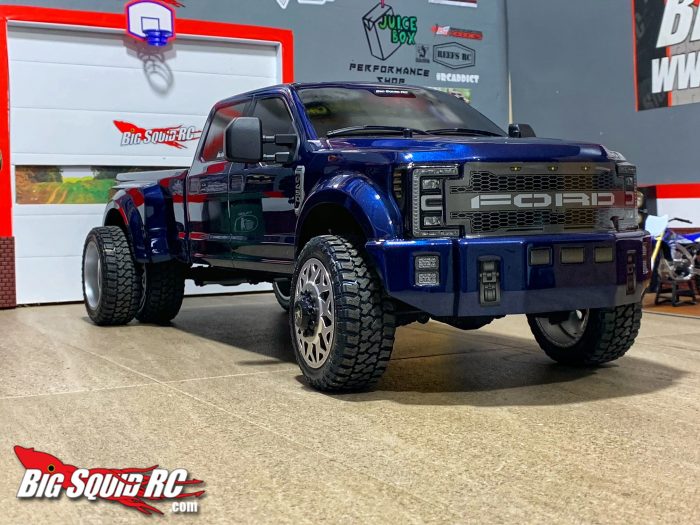 From: CEN Racing
Direct link: CEN Racing F-450
Unboxing pictures: CEN RACING FORD F-450 SUPER DUTY UNBOXING VIDEO
Review By: Jeremy Griffith
Photography By: Jeremy Griffith
Test Drivers: Jeremy Griffith
Specs:
RTR or Kit: RTR
Ages: 14+
2wd or 4wd: 4WD
Shaft or Belt: Shaft
Electric or Gas:  Electric
Waterproof: Yes
Scale: 1:10
Length: 26.70
Width: 11.41inch (290mm)
Wheelbase:  17.60inch (447mm)
Weight: 2.51 lb. 2.5kg
Motor: RS-550 high Torque Motor – Power By Mabuchi Motor
Speed Controller: ESC-40A WP-1040-Brushed (Powered by HobbyWing)
Low voltage cut off: Yes
Radio: Pistol-Grip AMP 30 3 Channel Transmitter
Differential: Planetary Gear Type Differential
Driveshafts: Center steel Shaft
Shocks: Big Bore oil filled adjustable coil over shocks
Servo Saver: High torque servo horn saver
Screws: Hex
Spur/Pinion Pitch: 32p56T/ 32p10T
Bearings:  yes
Tires: Low Profile Furry Offroad Country Hunters size 66 x 100.50 x 38.50
Part Number: 8980
Bashing Specs:
Ground Clearance: 2.52inch (64mm)
Wheelie on demand:  No
Stability control: No
Sound module: No
Self-Righting: No
FPV: No
Run Time (measured by BSRC – on a 2s 2000mah lipo): 35 minutes
Street Price: $ 369.00
Primary Competition: The only one that comes to mind would be Cross RC. Until now Cross RC was the only company to release a dually, and theirs is more crawler then street truck.
Need to complete: You will need a battery and charger to get this rig rolling.
Set up notes:  All we had to do was put a battery in the rig and some in the remote and we were off to the races! We left everything stock.
Build Quality: We went over the CEN Racing Ford F-450 with a fine-tooth comb and could not find anything wrong with the rig out of the box.
Test Venues: Juicebox Off-Road Park, Dellwood Park, and some private streets
Turning: Getting this big rig to whip around the corners is no problem with the stock Savox servo. At the higher speeds the suspension really digs in giving you tons of control in corners.  The adjustable coil over shocks allow you to dial in your set-up on the fly so can get you the most out of the rig's performance in any location. On the trails, remember to make wide turns because this rig is long and needs more room at slow speeds.
Crawling:  With some minor work you could easily make the CEN Racing Dually a decent trail rig. As it comes out of the box, it can do is some light trialing. The planetary gear differential isn't great on the rocks, but if a crawler is what you want then lock those diffs and the rig will be more off-road worthy. Why not just have the diffs locked from the factory? Simple, the CEN Racing Dually is a street truck first and foremost, locked diffs on the Dually would not allow the rig to turn as sharp making for horrible performance on road.
On-Road: Now this is where the CEN Racing Ford F-450 Dually feels at home! The Rear end of the truck likes to swing around but is easily controlled with all 6 wheels powering through. Unlike a normal on-road truck the CEN Racing Dually sits higher off the ground so small rocks and other road debris wont effect your rig while running. With the Dually sitting higher the center of gravity is also higher which means the rig will be more prone to tipping over, but this is where the extra two wheels come into play. Those extra wheels make the rear end wider so rather then just tipping over like most scale rigs do at high speeds, the CEN Racing Dually plants down on those two outer wheels giving you the traction you need. We only managed to tip it over twice during our testing and one of those was driver error. The Dually also has an optional high/speed gear you can access by taking off the trans cover and flipping the gear around. I preferred the torque over the speed, drifting around in the dually is a blast and to go from that to doing some simple scale trials or hauling a trailer is more fitting for what we feel this truck was built for.
Grass: Normally when an on-road rig goes off into the grass you end up doing the walk of shame, but with the CEN F-450, going through grass is now fun instead of embarrassing. Those extra tires and height get you through the short stuff no problem.
Tires: Officially licensed low profile Country Hunter Tires from Fury Offroad Tires. These tires are a little on the hard side out of the box but once you get some runs on them, they start to come around. The dirt is where we found most of the tires grip, almost like watching a dirt bike carve into a fresh berm, the Fury Country Hunter's dug in and ripped it! Underneath the Fury Offroad Tires are some wicked AMERICAN FORCE wheels. Wheels and tires can make or break a truck, but this combo fits this rig like a glove and looks amazing.
Power: The stock RS-550 high torque brushed Mabuchi Motor is more then enough power for the F-450 out of the box. Quick switch to the high-speed gear and a 3s lipo, the dually becomes a monster of a rig as well was a drift king. If you plan on using the CEN Dually as a tow rig, then we would suggest keeping it in the lower torque setting so you can get the full power of the motor. From a scalers point of view, it was a little off setting driving such a beautiful rig so fast, but once you get over that fear of the "first Scratch" its game on!
Radio: The Radio is an AMP30 3 Channel Transmitter. It feels great in the hand and is light in weight. Features include digital trimming, steering dual-rate adjustments, end point adjustments and built in failsafe.
Broken parts: The mirrors were my first guess to break, even after landing directly on its side a few times the mirrors are still intact! The CEN Racing Dually is a solid rig and is still running without issue to this day!
Best Mod: Normally it is the servo I would say needs replacing but the stock Savox servo is simply fine for this rig. I think Mods for the CEN F-450 will depend on what type of rig you are looking to get out of this CEN Racing platform.  If you want more of a trial truck, then locking the diffs and a nice set of crawler tires would be good to start with.  Adding cab marker lights would be a great mod as well.
Summary:
A= outstanding/Best in class, B = Above Average, C =Average, D = Below Average, F = Horrific
Time to bash: B. Getting the Dually ready to hit the road takes no time at all. The body fits perfectly on to the posts and there are no obstructions to get in the way. Just add batteries and go.
Workability: B+. working on the Dually is a painless task. With the rig being so long all the components have more then enough room for one another making it nice and open if you need you work on it.
Car Show Rating: B+. Out of the box the CEN dually could be a shelf Queen, it looks that good. The licensed body along with the wheels and tires really make this rig stand out from anything else. Since this is CEN Racing's first scale truck, I will go easy on them for the window stickers, the scale hobby world is very particular, and something as small as window stickers can be a big deal. It could also use some lights. Despite the window stickers the CEN Racing Ford F-450 is still the sharpest truck to come out this year!
Bash-A-Bility: A. This rig can take some punishment and looks good while doing it. After everything we put our CEN Dually through it came out the other side looking for more. The Dually will twist on you in the air if you do not hit a jump square, so make sure to line up your jumps if thats what you are going to be doing with it.
Handling: B+. The sway bars on the CEN F-450 really help with the handling of this rig. I think with a slightly softer tire compound the Dually would do even better on-road. The stock tires hookup best in loose dirt, gravel, and sand but on the pavement, they can break free.
Value: A. Keeping any decent rig under $400 bucks is not easy to do, let alone having multiple licensed parts. The CEN Racing Dually comes in at $370.00, and for what you get that is a great price!
Parts Availability: C. Luckily the Dually uses a lot of the same parts from CEN Racings monster trucks so getting parts online will be no issues. Local hobby shops on the other hand might not have what you need, and will probably have to order them for you.
BigSquid Rating: B+. Any rig that can survive our testing is worth at least checking out. CEN Racing has stepped out of their box, if not everyone's box by bringing something no one has ever done before an on-road scale truck. CEN Racing has been around a while making monster trucks, but I think the Ford F-450 Dually will be the rig that gets CEN Racing being a household name again. From a scale Builders perspective I see nothing but opportunities with the CEN F-450, from tow rig, pull truck, Show N Shine, work truck, full interior, lights, whatever you decide the CEN Racing Dually will be a fun Rig to have in your line up!
Did you catch the videos we did? Here's the CEN F-450 in action!

Also check out our unboxing video