It's time to review the CEN Racing F-250! Cen has released a new rig for their DL Series, the F-250 SD 1/10 4wd Solid Axle Custom Lift Truck. Unlike the previous DL Series rigs that were dually's, the new F-250 SD is a standard truck with only 4 wheels. Rocking a set of Licensed KG1 Forged wheels, new RGB multicolor rock lights, and a custom lifted suspension design, the new CEN F-250 looks wicked! so let us find out if it's all looks, or is the new CEN Racing F-250 SD worthy to be a part of the DL Series?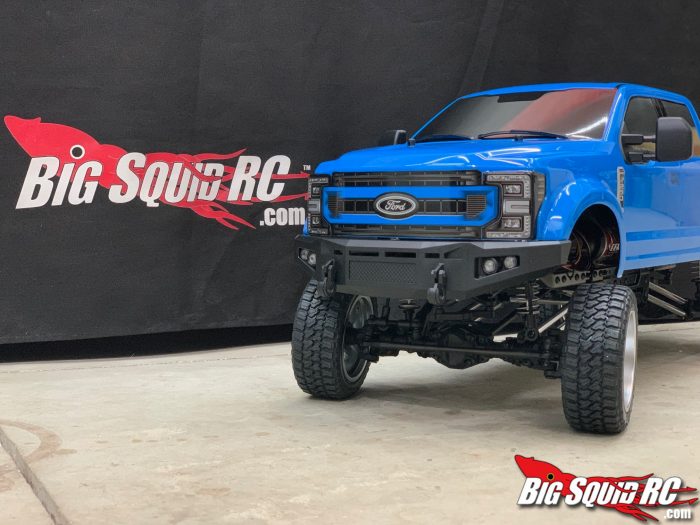 From: CEN Racing
Direct link: Direct Link
Unboxing video: Big Squid RC Unboxing Video

Running video: Big Squid RC F-250 Running Video

Review By: Jeremy Griffith
Photography By: Jeremy Griffith
Test Drivers: Jeremy Griffith
Specs:
RTR or Kit: RTR
Ages: 14+
2wd or 4wd: 4WD
Shaft or Belt: Shaft
Electric or Gas:  Electric
Waterproof: Water Resistant
Scale: 1:10
Length: 25.6 inches [650mm]
Width: 10.4 inches [255mm]
Wheelbase: 16.02 inches [407mm]
Ground Clearance: 3.54 inches [90mm]
Motor: High Torque RS550-S Brushed motor
Speed Controller: 40A WP-1040- brushed
Low voltage cut off: yes
Radio: Pistol-grip mod-3s 3 channel transmitter
Differential: OPEN
Transmission: High Efficient Transmission system with high-low gear box design
Shocks: 110mm Piggyback Shock Absorber
Servo Saver: yes
Screws: Hex
Chassis: Steel Frame Rails
Bearings:  yes
Tires: Official Licensed Fury Tires – Low Profile Hunter tires 65 x 100.50 x 38.50mm
Battery: Not included
Part Number: 8992/8993
Street Price: $469.99
Run Time (measured by BSRC): 35 mins on a 2s 5000mAh
Top Speed: 10MPH
Primary Competition: Traxxas TRX-4 1979 Chevrolet K10 High Trail Edition
Build Quality: The rig was built with love, and every part was together and ready to play.
Set up notes: To switch between lights, make sure to double tap the channel 3 button, and not the function.
Test Venues: Big Squid RC Kentucky Office, "Juicebox Holler"
Radio: The AMP30 2.4GHZ FHSS digital system is that same transmitter from the CEN Racing F-450s. the transmitter feels great in the hand and is easy to understand.
Turning: The F-250 is a bit weak when it comes to turning. With the new Custom lifted suspension, the servo sits a lot higher and requires a long servo horn. If the servo was a little stronger, you would have a easier time at slow speeds. While you are driving, it's not bad, it seems to only be sluggish while going slow.
Crawling: Just like the CEN F-450, the F-250 is not out of the box ready to crawl your face off. But can be easily made into a wicked crawler with the KAOS hop-up parts. The new Custom Lifted Suspension has the rig sitting a lot higher than the F-450. So, tossing on some off-road wheels will be an easy swap. If you want to get more flex with the F-250, then remove the Sway bars, just know it will twist a bit if you do this. The 110mm piggyback shocks are more robust compared to the F-450. If you max them out, I would add a little weight to help the rig from tipping over. The open diffs will make it tougher to plant all 4 tires while ripping up rocks. Hill climbs and some light trail driving can be done, but the CEN F-250 is more of a street rig out of the box.
Broken parts: While we beat on this rig, we have only had one issue. The under lights wire got loose and caused them to not respond. Was a quick fix, and we are back up and glowing!
Best Mod: Picking a good mod for the F-250 is going to depend on what you want to do with it. If you want an off-road rig, I would get the KAOS parts. If you just want to drive it, then a good servo is all I would suggest. Now if you really want to make the CEN Racing F-250 stand out, then 1:10 Rod Shop is the place you want to check out for insane over the top hop ups.
Summary:
Time to bash: The new F-250 is ready out of the box and takes the normal amount of time to get ready for some fun.
Workability: Working on any of the CEN Racing rigs is easy to do and follow. The hop-ups are just as easy to install as well, and this is why the CEN Racing rigs have become so popular, the platform is easy to work with and fabricate to your liking.
Car Show Rating: If you want a RTR that will instantly turn heads, then this is the rig for you. The new F-250 is car show worthy out of the box. The added rock lights set it off by lighting up the chassis and illuminating the surrounding area. The Body of the F-250 comes in two colors, Daytona Blue and Burnt Orange. Both look great and have hard plastic side mirrors and a bed liner adding to the scale effect. The bumpers are a hard plastic as well and have tow hooks on the front and shackles on the rear. The shackles in the rear are loose so they will swing freely while driving as a real one would.
Handling: Even with the open diffs, the CEN Racing F-250 still did well. We had to take a few turns on some obstacles, but in the end it would make it through. The only thing holding the CEN F-250 back, is the slightly under powered servo. Easy fix.
Value: $469.00 seems to be the going rate these days for rigs, well for the most part. The new suspension led multicolor under glow, licensed Ford F-250 Super Duty body, and licensed KG1 Forged wheels makes this rig worth every penny.
Parts Availability: Parts for the CEN Racing trucks are getting easier to get. Still might not find it at a local shop, but online will have what you need if the local shop doesn't, and the hop up scene is exploding for these rigs.
Big Squid Rating: The New F-250 SD Custom Lift Truck fits right in the Cen Racing DL Series lineup. RC Show trucks, with the balls to back up its good looks. CEN Racing has found a way to make a platform work for multiple builders or users, from flashy street trucks, tow pigs, mega dually, work trucks, I have even seen a CEN Racing Rat Rod. It is awesome to see CEN Racing trying new things and not running the platform into the ground. As Cen Racing continues to innovate and release trucks as well as hop-up parts, we here at Big Squid RC look forward to what the future holds.