CKRC Short Course conversion for HPI MT2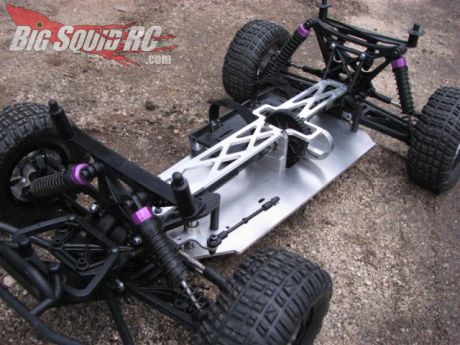 So let's say you bought a HPI MT2 a while back, you thought you were the cool kid on the block.  But then all your friends decided to up and buy Slashes, Blitzes, and SC10s.  Now you're left looking kind of like a tool.  So what could you do to save face?  How about buying yourself a CKRC MT2SC Conversion kit and turning that MT2 in to a short course truck that's four wheel drive and brushless ready.  I think that'll work out just fine for ya.
The conversion kit includes a new 1/8″ aluminum chassis, aluminum chassis stiffener, bumpers, body mounts, and pretty much all the other stuff you'll need to take your nitro powered stadium truck and turn it into an electric powered short course truck.  All you'll need to provide are wheels, tires, and a body from one of the other popular short course trucks out there.
Check out the CKRC web site for more complete details.