Color coordinate THE Car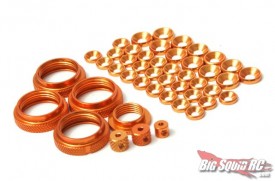 So you bought yourself JQ Product's THE Car, but something has been missing.  Maybe you're upset that the color of various metal parts doesn't match your purse and shoes.  Or maybe gold just isn't your color.  Well JQ has some good news for you as they are releasing a whole bunch of brightly colored parts for your THE Car.  The complete package includes all M3 and M4 shims, shock ride height adjustment nuts, servo saver adjusting nut, and throttle link collars.  They'll be available in black, green, red, blue, and um… gold, just in case the stock gold isn't enough gold for you.  There's also a selection of rear wings available in white, green, and yellow.
No word on pricing or availability yet and THE website is light on info, but soon and not much should be appropriate.