CONTEST TIME!!! Win My ???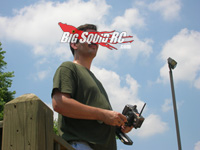 (CONTEST is officially over.. see the update)
Ok folks.. here we go! Decided to make you guys work a little more this time.. Don't worry.. it's not too difficult. Comments are ON for this post. You must comment on this post on BigSquidRC.com. (NOT the post on facebook). I'm not telling what you may win, till someone wins it. Here are the rules
1) Leave the 100th comment on this post AND tell me what's the last truck (most recent) I reviewed (by date).
2) if you are the 100th person to comment on this post, but you get the name of the vehicle wrong, we will go to the next person.. 101.. and keep going till we get a correct answer.
3) if you won a vehicle in the last 6 months from us.. please don't try.. we are trying to spread the love man!
So basically, the first person to name the truck I reviewed recently in the 100th comment or higher wins.
hint #1: warning, my last review is NOT linked on the reviews page yet..
hint #2:… The review was posted near the beginning of August 2011.
hint #3: .. The company initials are s.p.
hint #4: … vehicle name = R**
Contest limited to folks in the USA only. Sorry guys.. shipping would kill me on this overseas.
Good luck!!! We will announce the winner and the prize we have a winner!
CONTEST IS OVER
UPDATE: We have a winner!!! Kage! With the RS2 for the answer!!! Congrats! Justin was actually the 100th poster, but he got the answer wrong.. and we said we would go to the next person who got it right.. Kage: drop me and Brian an email with your address.
Oh yea.. and guess what you won.. The Speed Passion RS2! It's yours!
Thanks everyone for playing! Watch for another contest soon!