Converting the Losi Micro SCT to 2.4 GHz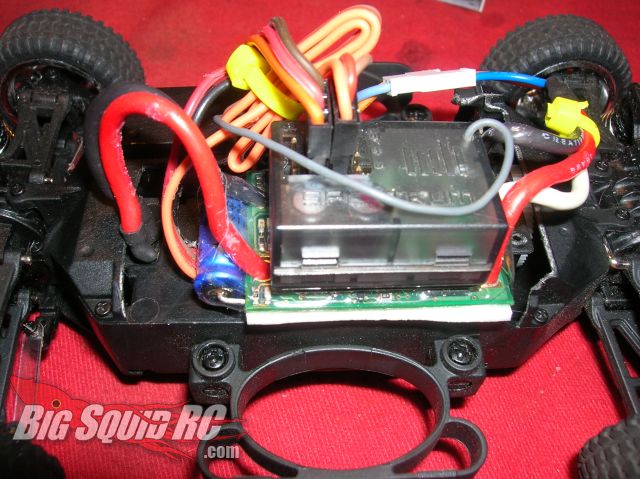 The Losi Micro SCT and Micro Rally have started taking off, but they both come with 27 mhz radios. They actually come stock with a combo unit that contains both the receiver and speed controller, and to make the switch over to 2.4 GHz a bit harder, it comes with a non-standard 5 wire servo. So here's the scoop on how to convert the Losi SCT/Rally over to 2.4.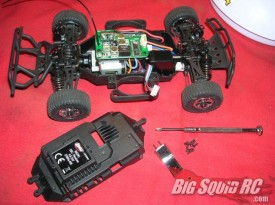 1. Remove Crystal
2. Unplug 5 wire servo plug
3. Remove the 7 screws that hold on the top deck
4. Remove the 4 screws that hold the stock receiver/speed controller
5. Unplug Orange/Blue wires (These run to the motor)
6. Remove the hot glue that holds the on/off switch (or cut the wires and use them as the on/off switch for the new speed controller you'll be installing)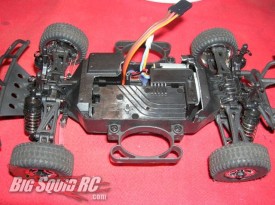 7. Cut the top deck. This is done to make more room for your electronics.  On the front make sure you don't cut away the part that secures the top of the servo, on the rear make sure you don't cut away the part that secures the top of the motor mount.
8. Re-install the rear half of top deck using 4 screws
9. Install 3 wire micro servo. The Losi #LOSB0814 is a perfect fit, but you'll need to ditch the servo saver it comes with and use the one off your stock Micro SCT. Be sure and hook this servo up to your receiver and speedo to make sure it is properly centered before you complete the install.
10. Install front top deck using 3 screws.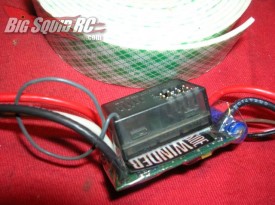 11. Prepare new speed controller and receiver. We used the micro Spektrum receiver, and used double sided tape to secure it to the top of a Castle Mamba 25. You'll also need to solder on a battery connector to the speed controller, solder on a plug to connect the wires to the motor, and we soldered the Mamba's on/off wires to the stock Losi switch.
12. Mount Mamba/Spektrum combo to the truck via double sided tape
13. Program speed controller.
14. Set trim and endpoints of the servo on your controller.
15. Go have fun!
Top Deck cut up: