Core RC has a new budget radio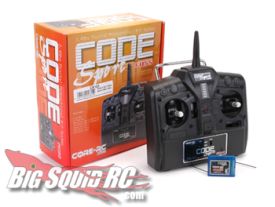 Are you a lover of 2-stick radios?  Do pistol grips just not push your buttons?  Have you been waiting around for a budget 2.4 GHz radio in the form-factor you prefer?  Wait no more, Core RC is here with their new CODE Sport 2.4 GHz FHSS radio.  This low-cost, 2-stick wonder is about as bare-bones as you can get in radios.  Beyond the reliable nature of the 2.4 GHz signal, this radio only features servo reversing and trims for steering and throttle.  But you can get it for a low price of £39.99 (or just over $60 at current exchange rates) with a receiver, or £24.99 (~$40) for just the transmitter.  That makes this one of the least expensive 2.4 GHz setups out there, and just about the only surface focused 2.4 GHz 2-stick setup (Futaba has one, the 3GR-FS, but it's list price is $349.99).
For more info check out the Schumacher web site, the distributor of CORE R/C products.