Cross RC has released a 1:8 scale monster! The new Cross RC EMO X comes in multiple colors, yellow, blue, silver, and as well as a kit version for all you master builders. The EMO X is packed with features, locking front/rear Diffs, 2 speed transmission, 2.2 wheels and tires, a full lighting system and much more. We here at Big Squid RC did not hold anything back while we were testing the Cross RC Emo X. So, how did it do? Read on to find out!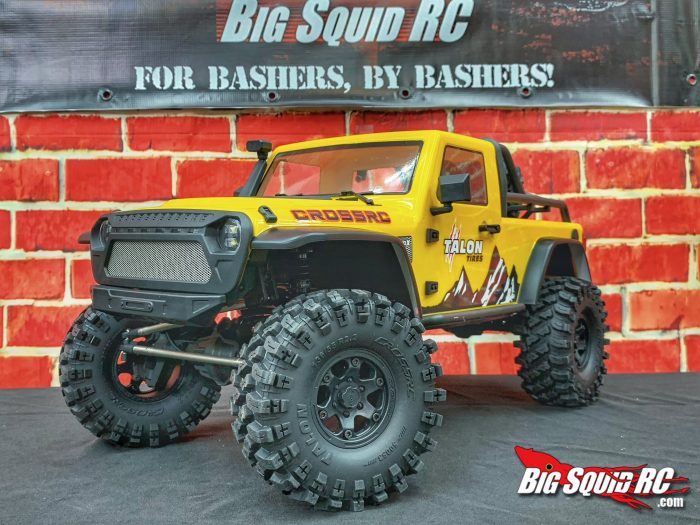 From: Cross RC USA
Direct link: Cross RC USA – EMO X RTR

Review By: Jeremy Griffith
Photography By: Jeremy Griffith
Test Drivers: Jeremy Griffith
Specs:
RTR or Kit: RTR
Ages: 14+
2wd or 4wd: 4WD
Shaft or Belt: Shaft
Electric or Gas:  Electric
Waterproof: Water Resistant
Scale:  1:8th
Diff: Powder metallurgy 4+2 gear dif.
Shocks: 16 mm aluminum alloy CNC
Wheelbase: 375mm
Motor: 560 25T brushed motor
Low voltage cut off: yes
Radio: 2.4GHz 6 channel Radio
ESC: Hobbywing 880 BEEC7.4V
Servo: 25 Kg HV
Screws: Hex
Chassis: STEEL C-CHANNEL FRAME
Bearings: Yes
Tires:  Cross RC Talon 136X55 R2.2 high performance crawler tires
Wheels: 2.2″ bead lock wheels
Part Number: CZREMOXRTRS
Street Price: $599.99
Run Time (measured by BSRC) 2hrs with a PitBull RC 3s 3400 MAH
Top Speed: 18MPH
Primary Competition: Axial Adventure, REDCAT Racing.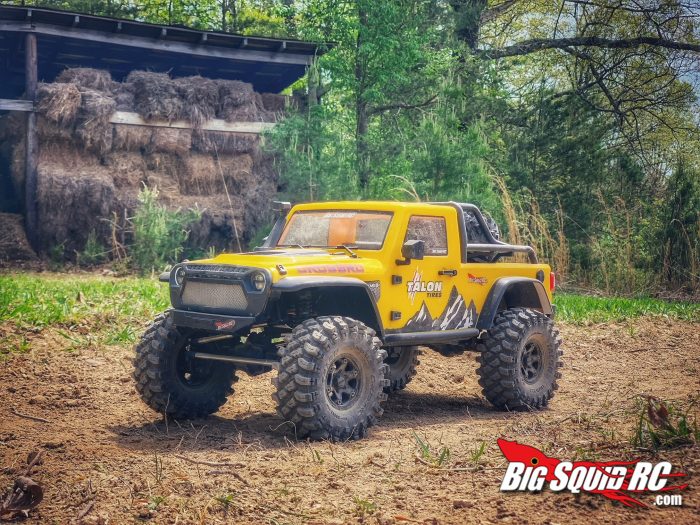 Build Quality: The EMO X came out of the box Ready to rock! All the parts and accessories were installed, and the wheels nuts were tight.
Set up notes: Not much to set up on the EMO X, the remote is laid out where it is labeled what each channel controls. Plug in your battery, put in those body clips and hit the trails.
Test Venues: Daniel Boone National Forest, Big Squid RC Farm.
Radio: The 6 channel Radio that comes with the RTR model works great. Having all the channels labeled saves you a lot of frustration of figuring out what button does what.
Turning: Even with the EMO X's larger size, the steering servo is strong enough to turn the big rig on a dime.
Crawling: We crawled the EMO X all over! Its larger scale allows you to hit new terrain and obstacles that you can't do with a smaller scale rig. While in the water the Emo X never slipped, keeping its grip and weight down low. On the Dry rock and dirt, you can hear the grip from the 2.2 Talon tires. The portal axles did great on the rock beds, and the 4-link suspension is on point with the rig. The shocks can be dialed in to how you want the rig to handle on any terrain. On Steep inclines the spare tire in the back can cause the rig to tip back, so be careful. Side hills with the EMO X worked out well, the rig is very versatile when it comes to crawling and trailing. Fun easy trail rides or extreme rock crawling, the Cross RC EMO X is one of the top rigs you can get.
Running Video:

Broken parts: One drivers side mirror and some trail rash, is all our Cross RC EMO X received after we finished beating on it.
Best Mod: For being a larger scale mods may be limited. That being said a smoother Servo is always a good first mod.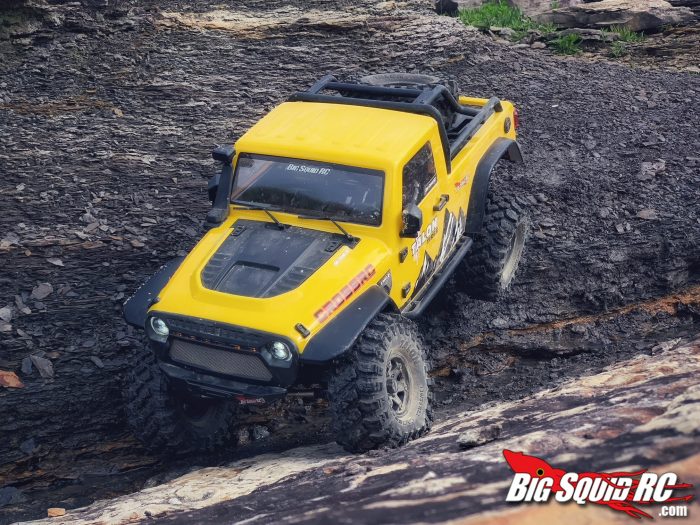 Summary:
Time to bash: Hidden body posts are awesome; they do their job and keep the rig scale by not seeing them. Downside is, they take a little time to get the body on and off, adding time to pre trail.
Workability: This is where larger scale rigs shine. Working on the Cross RC EMO X is easy considering the parts are larger. The front and rear locker servos are by the axles making them easy to remove if you need to replace them. One part on the EMO X I wouldn't want to tackle is the transmission, there are a lot of gears in there, and I have a history of messing those up lol.
Car Show Rating: Full lights, light bar with multiple modes make the EMO X stand out from other large-scale rigs. The EMO X also has molded bumpers, roll bar, side mirrors, snorkel, grill with metal mesh, full shallow interior, all these parts make the rig look more like a 1.1 and less like a toy car. The sticker on the doors are the only eye sore I have noticed. Not that they are ugly, but too big and in the wrong spot. Having the name of the rig's tires "Talon "massively on the door will cause people to call the rig or ask for the rig by the wrong name.
Handling: The EMO X is a blast to just drive in general. Very few crawler rigs can be bashed hard, then hit the trails and work perfectly fine. The higher gear is wicked fast on 3s and you can get some good airtime with the EMO X. While on the rocks the rig stayed planted and let the suspension do the work. On downward inclines the drag break is able to hold the heavy rig, and let you slowly make your way down. But if you want to send it, the EMO X can do that as well.
Value: Coming in at 599.99 may seem high, but you have to remember it's a larger size. Cross RC is known for making super scale rigs that are well build with good materials. With the EMO X, you can now get your quality as well as affordable.
Parts Availability: You might get lucky and find some parts at a local shop, but most of them will need to be bought online.

Big Squid Rating: The Cross EMO X flat out delivers! From durability to performance the EMO X can do it all. It was a smart play on Cross RC to not only release an RTR of the EMO X, but to offer it in a kit as well, getting both builders and runners interested in the rig. We look forward to seeing what Cross RC will come up with next. Until then, we are going to keep playing with the EMO X!
Unboxing Video