The Demon SG4 scale truck from Cross RC came out of nowhere, and instantly had a ton of interest and people questioning everything about it. How do they get one? Who is Cross RC? What sort of quality is the kit going to be? It's has been a while since we got our hands on a true kit, so lets jump right in and answer some questions!
From: Cross RC
Direct Link: Cross RC Demon SG4
Unboxing Pics and Video: BSRC Unboxes The Cross RC Demon SG4
Build Pictures: BSRC Builds The Cross RC Demon SG4
Review By: Wrench (Bill)
Photography By: Brian
Specs:
RTR or Kit: KIT
Age: 14+
2wd or 4wd: 4wd
Shaft or Belt: Shaft
Electric or Gas: Electric
Waterproof: Yes
Scale: 1/10
Motor: Cross RC 35T brushed
Speed Controller: Brushed, waterproof
Radio: NA
Differential: Gear type
Driveshafts: Metal bones
Shocks: Metal, oil filled
Screws: hex
Bearings: Yes
Tires: Black rock 1.9 tires
Wheels: Aluminum CNC beadlocks
Part Number: #SG4C
Bashing Specs:
Wheelie on demand: No
Backflip off ramps: No
Stability Control: No
Sound Module: No
Self-Righting: No
FPV: No
Runtime (measured by BSRC on 2S 2000mah LiPo): 47 minutes
Street Price: Varies by model. $299-$549. Review SG4C $549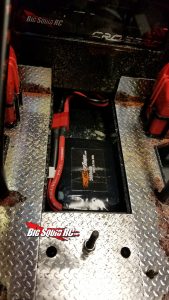 Features
Molded hard body
CNC shell working winch with controller
Led lighting
Simulated engine panel
Full interior with lighted dash
Plastic interior roll cage
Air snorkel
Metal tow shackle
Metal door guard rail
Metal rear roll bars
Metal rock sliders
Steel driveshafts
Spiral cut metal diff gears
CNC axle housing + CVD's
Metal coil-over shocks
Since it is a kit, we had to supply some of our own parts to get it moving.
Test equipment
ESC- Hobbywing Quickrun WP
Radio- Spektrum DX6R
Receiver- Spektrum SR6000T
Batteries- Maxamps 2000mah 2s 100c 7.4v Lipo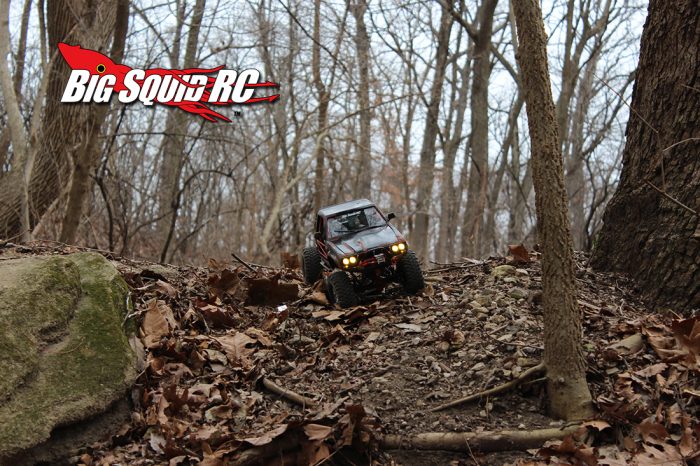 Primary competition
There are not many crawlers out there with such attention to detail. Cross and Capo are the only 2 with this much detail.
Need to complete
You will need a crawler ESC, Radio gear (with the C truck, at least 3 channels), battery and charger.
Test Venue
Dellwood Park, Illinois (Great spot for trail crawling with tons of different types of terrain)
Test Drivers
Bill a.k.a "Wrench", Greg H., Alberto C. a.k.a Tuna
The Build Process
The Cross Demon is not a kit for beginners. It takes some time and skill to complete. The instructions are a well done and easy to follow, but it does take some looking ahead. Some parts require paint and some gluing and you will want to have that stuff dry when you need to add it to the truck.
The truck went together smoothly with lots of personal options to think about. Stuff like the Snorkel, hood scoop, and the color of the retainer rings on the rims as well as paint for the hard body.
The parts are divided into lettered bags, but some steps require parts from different bags to complete, so be prepared to have things spread out. I highly recommend reading through the instructions before starting to build. All screws are hex heads, so a good set of tools is a plus.
Scale Driving
We took the Demon out to a local park with plenty of good trails. It offers a little bit of everything like water, rocks, dirt, trails, wood, and some nice flagstone steps. The truck did very well on all terrains. There was even some sections of tall grass, and we had no problems clearing the way.
There is plenty of suspension travel to help get over most obstacles and the Black Rock tires had plenty of traction to help claw over the rocks.
The park features a HUGE steep grade dirt hill that has stopped many trucks that try to climb it, and we are happy to report the Demon sat proudly at the top. As with most hard body trucks, the Demon is a little top heavy, but it handled itself well. There wasn't too much that this truck couldn't get past or over. During the build I was a little worried that the shocks seemed a little soft, but once on the trails, they were perfect for this truck. There was very little to no torque twist under power. The supplied winch worked great to help pull trucks up embankments and it is a huge point for the scale looks. (We show that off in a video coming soon if it's not at the bottom of this review)
Power
The supplied motor was a little week for our tastes but we do tend to lean on the 'more power' side of things around here. There are times where you need the wheel speed to get out of a hole, over a rock or up a hill, and we found ourselves wanting a little more oompf. Maybe running a 3 cell would help, but you would have to find one to fit in the battery box which can be a tight squeeze.
Misc notes
This truck was a blast to build and so much fun to run. The Demon SG4 is going to be my go-to truck for the next few trail sessions for sure. The scale looks and all the metal parts make it a show stopper on the trails. There are 3 classes of the SG4 with the C being the flagship. The C has metal trans and transfer case while the lower 2 use plastic. Also some of the accessories are different. The battery box is small, so make sure you have a battery that will fit.
Durability
If you watch the video, you can see we tried to jump it off a few rough ledges, and roll it down some pretty huge hills. The Demon took a pretty good beating, and all we ended up breaking was a rod end. Lucky for us, they actually ship plenty extra in the kit, and we were back up and running in a few minutes! After a bunch of packs, and some crazy good times, the truck has put up with a lot, and nothing really broken to keep us from staying on the trails!
Best mod
Like I said before, some weight down low would really help as it can be a bit top heavy.
Summery
A = Outstanding/Best in Class, B = Above Average, C = Average, D = Below Average, F = Horrific
Time To Bash: C This isn't a RTR, slap in a pack and go truck. It's a kit. It took just over 6 hours total for the build including paint.
Workability: B With building the kit, you know how to get to everything and exactly what you have to do to fix it.
Car Show Rating: A+ You are not going to find many kits with as much attention to detail as this. Lights on the dash? Yeah, it's got them. One of our test drivers said this is the type of truck you put on a scale trailer and tow around. It's a center piece.
Crawl-A-Bility: B It handled everything we threw at it on the trails. With a little time on the work bench, this could be an A.
Fun Factor: A The potential for scale adventures and videos is endless with this truck.
Handling: B Next to no torque twist and plenty of suspension travel makes it a very capable rig. The turning radius is a little on the big side.
Value: B It is not a cheap kit. The C version retails for $549 which is a little steep for a kit. But when you look at all you get, you could spend well more than that to build another truck to these specs. All the metal parts make the money well worth it to someone who is going to run this thing all the time, but for a sporadic user, it could be a little much. That being said, they do have a $299 kit if that is more in your budget.
Parts Availability: C With the kit being new, some parts can be found on-line, but not very many hobby shops are going to have parts on the shelves.
BigSquid Rating: B The looks of the Cross Demon are second to none. Couple that with being able to take it out and have it perform well makes it a great truck. The price might scare some away, but someone that crawls a lot will find all the metal parts and scale realism a huge plus.
If you are looking for a cool scale build to do, head over to This Link on the Cross RC USA website. Make sure to tell them Big Squid sent ya! 😉
You can Hit This Link to visit the official Cross RC website to get more details on the Demon, or you can Click Here to read more Cross RC news on BigSquidRC.
You can see our unboxing video of the Demon SG4 Right Here on BigSquidRC.
Check out the Cross RC Demon SG4 Video Below in 4k!