Crux RC Bash Event
The Crux RC Bash Event, by Tim Mohr
BigSquidRC is all about bashing, so cover as many bash events as we can. Last weekend I got to attend an rc bash in Washington Missouri, a town about an hours drive from the St Louis Missouri metro area.
The venue was at a place called The Crux. The Crux is multi purpose venue, catering to skateboarders, bmxers, paintballers, small concerts and even rc events. Started
by Kentwood Community Church, The Crux was opened just for the local teens, giving them a safe place to hang out and enjoy their favorite sport or hobby. There should be one of these venues in every area, it was really cool. The area is very scenic, and just plain looks like an awesome place to hang out and have fun, which was the perfect setting for their rc bash event.
The event organizer was Brian Gansereit, who owns the local hobby shop in the area called Kreig Haus Hobby & Coin. Brian ran a flawless program, with all the event going smooth, and everyone having a blast. You didn't see anyone running around all stressed out like you'd find at an rc race. The bash wasn't about winning, it was all about having fun, exactly the way rc should be.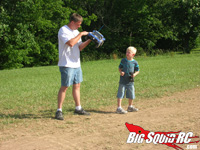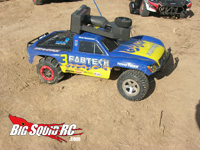 There were 3 events at the bash- the obstacle course, a high speed run, and a long jump competition.
The first event held was the obstacle course. The course was held on a dirt track, with various bumps, jumps and corners. The person who completed two laps in the shortest time won. The winner was Fred Harris, who got his MaxAmps powered Traxxas Slash 4×4 around the course in 1:17.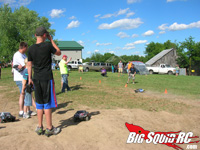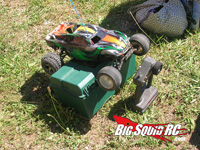 Next event up was the high speed run. The high speed run was held on a 120 foot long dirt straight, with the top speeds being measured by a radar gun. Justin Noble walked away with the win in this event, with a top speed of 41 mph with his Castle Monster powered Losi 8E.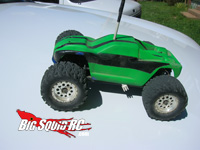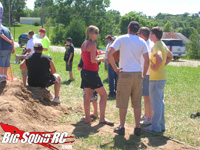 The last event was the long jump. Drivers got about a 100 foot run at a small wood ramp to see how far they could jump. Justin Noble also won this event with a jump of 80 feet.
I'd like to thank everyone at the event for being so cordial, and can't wait till they host another one. If you are within driving distance, make the next Crux RC Bash a must hit event, you'll have lots of fun and be glad you went.
For More Pictures…